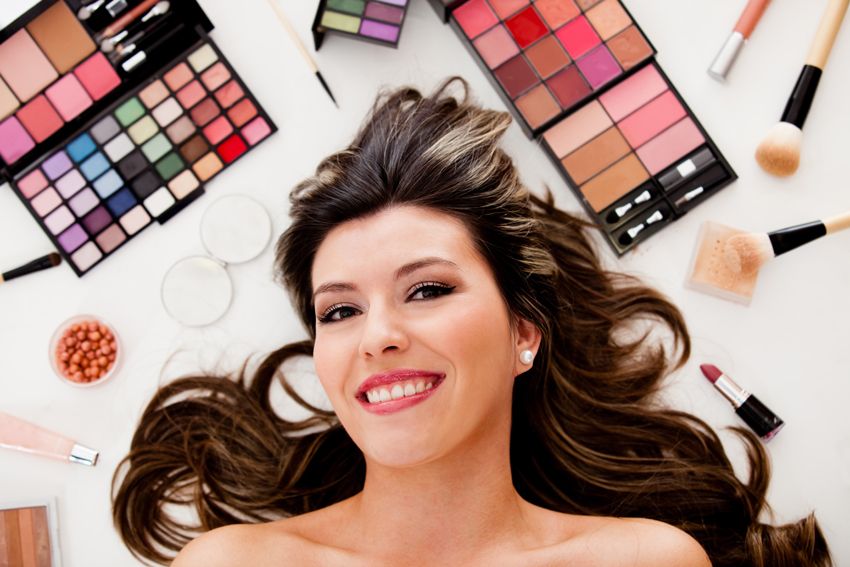 Photo Courtesy of Shutterstock
Here at the JustLuxe offices, we're big fans of beauty—from eye shadow basics to a glam red lip, our personal tastes cover the entire gamut of makeup, hair and skin care. There are frequent in-office debates over the best places to shop, the newest fragrances and which brands are offering the hottest new shades. So this spring instead of swapping our beauty tips and favorite tricks over a cup of Starbucks in our early morning meetings, we decided to share our current beauty picks with our readers. In addition we'll be giving away a bundle of our four top picks so you can follow the JustLuxe beauty routine at home! Hosted by Poshly, one of the newest online beauty giveaway sites, readers can enter to win all four of our beauty favorites! Ahead, find beauty routines, tips and the tried-and-true favorites of your JustLuxe editorial team! And don't forget to let us know about your beauty loves for the spring season below, then head on over to Poshly to enter to win!
Bobbi Brown Long-Wear Gel Eyeliner, $24, Bobbi Brown. Stila Stay All Day Prime & Anti Shine Balm, $30, Sephora. Origins A Perfect World™ SPF 25 Age-Defense Moisturizer with White Tea, $41, Origins. Amazonian clay 12-hour full coverage foundation Broad Spectrum SPF 15 Sunscreen, $38, Tarte Cosmetics. Dior Dior Addict Gloss, $30, Sephora.
I am pretty picky for the most part when it comes to cosmetics, always on the hunt for awesome products with great ingredients. One of my morning staples is Stila's Stay All Day Prime & Anti Shine Balm. It goes on after my moisturizer (ORIGINS A Perfect World SPF 25 Age-Defense Moisturizer with White Tea) and before my foundation. The product has a gel feel, clear and matte in color without one drop of greasiness. It works by filling in creases and imperfections in my skin so when foundation is applied over it, the finished look is very even and as flawless as you can get while still looking like you aren't wearing makeup. Of course half of this equation is the foundation itself, of which I also can't sing high enough praises. Tarte's Amazonian Clay 12-Hour Full Coverage Foundation does last throughout the day, although 12 hours is a bit of a stretch. Still, staying put through my work day is good enough for me. Bobbi Brown's Long-Wear Gel Eyeliner in Black Ink is also wonderful; I have been using the stuff for well over a decade now. To top things off, I am a sucker for Dior Addict Gloss for a pretty lip and in the mascara department the jury is actually still out. I just can't seem to find one that I really like, so I tend to pick a new one each time I buy and during the summer I treat myself to eyelash extensions, which are absolutely fabulous for someone like me who suffers from is blessed with having blonde eyelashes!
—Courtney Driver
Executive Editor
Lush Vanishing Cream, $43, Lush. Benefit Cosmetics Sugarbomb, $28, Sephora. Benefit Cosmetics They're Real Mascara, $23, Ulta. Benefit Cosmetics High Beam, $26, Benefit Cosmetics. Lime Crime Opaque Lipstick Retrofuturist, $18, Lime Crime.
I always put on some really light face lotion first, like Lush's Vanishing Cream—I tend to break out a little around my chin once a month, and the witch hazel in this really helps sooth and tighten my pores. I don't usually bother with too much concealer, so after some translucent powder and maybe some under-eye cream, I put some Sugarbomb Blush and High Beam Highlighter from Benefit on my cheeks. I use liquid black eyeliner for the cat eye look and finish my lashes with Benefit's They're Real Mascara. Regardless of where I'm going, I like to pull everything together with some really fantastic lipstick and once I discovered Lime Crime, I never looked back—this lipstick is my recent obsession. Their entire lip line is great, but their Retrofuturist Opaque lipstick is my current favorite. It's an amazingly bright red that goes on creamy, dries matte, lasts all day (no joke), and doesn't bleed. Plus, their mascot is a unicorn. Done deal.
—Mila Pantovich
Lifestyle Editor
Lancôme Dual Finish Versatile Powder Makeup, $39, Nordstrom. Maybelline Great Lash Washable Mascara In Blackest Black, $7, Maybelline. L'Oreal Paris True Match Super-Blendable Powder, $11, Drugstore.com. Maybelline Expert Wear Eyeshadow Quad, $7, Ulta.
Growing up I always remember watching my mom buy makeup at Lancôme's beauty counter. When I was old enough she bought me my first compact from the brand and I couldn't have been more excited. Over the years I've fallen out of love with various products, but I've always continued to use Lancôme's Dual Finish Versatile Powder. It comes with two different sponges, one for full-coverage, the other for a flawless matte finish. The thicker sponge can even be dampened to create a foundation finish. I'm partial to the matte finish with the thicker sponge because of my oily, uneven skin tone. After applying this powder, my skin is always more even with a very natural look. The rest of my routine is pretty simple, after my compact I add a touch of bronzing color to my face, finger on eye shadow (typically a pinkish hue), and pencil in eyeliner. I don't like putting mascara on at home though, so I usually throw it on when I'm in the car because it makes me feel like I'm wasting less time in the mornings. My go-to for years has been Maybelline Great Lash Washable Mascara in Very Black because that little hot pink and green tube never disappoints, it's always dependable with all day coverage and never leaves clumps.
—Nicolle Monico
Travel Editor
Dior Dior Addict Extreme, $32, Dior. Shiseido Benefiance WrinkleResist24 Day Cream, $53, Shiseido. Marc Jacobs Honey Eau De Parfum 3.4 oz, $90, Marc Jacobs. SK-II Facial Treatment Mask, $90, SK-II. Guerlain Mazi Lash, $30, Sephora.
To say I'm addicted to skincare is a total understatement—for me beauty has to start with your skin. Maybe I'm just afraid of wrinkles, but I have a fairly disciplined beauty routine that starts with makeup removal using Lancôme's Bi-Facil remover, washing with Organic Pharmacy's Carrot Butter Cleanser then about five different layers of treatments, serums and lotions. The sheets say to leave it on your face for five to 10 minutes but I leave them on for an hour or more in the evenings to really let the treatment soak in—plus it forces you to sit down and relax. During the day I always end my treatments with Shiseido's Benefiance Wrinkle Resist24 Day Cream with SPF 18. I don't use any foundation or powder (I don't even own any), so I normally skip right into makeup. I don't use any cosmetics with carmine as an ingredient so I love Too Faced's Sweethearts Perfect Flush Blush in Candy Glow which literally gives me the perfect flush—seriously it's better than Nars' Orgasm. Using Obsessive Compulsive Cosmetics' pigments for a quick sweep of eye shadow, I top off my lashes with Guerlain's Maxi Lash (which smells amazing), then pop on a bit of Dior Addict Extreme Lipstick in Pink Icon, and a spritz of Marc Jacobs Honey and I'm good to go.
—Marissa Stempien
Fashion Editor