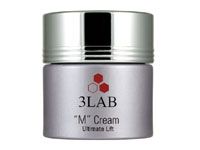 Health & Beauty:
No Luxe List would be complete without a roundup of fabulous finds in the self care department. If you or someone you know needs an effective body beautification regime, consider the products detailed below to keep your skin and hair in tip top shape:
******FAB FACES******
"M" Cream
3LAB, a luxury line of cosmeceutical skincare, has introduced "M" Cream ($250) to help relieve stressed skin from the outside in. This radiance-enhancing gel cr?me for the face helps is a marvelous answer to dull, stressed skin that can result from many things. Emotional tolls, lack of sleep, change in diet, smoking, sun and wind damage, over active hormones and constant muscular contractions from pouting or frowning can all show up as stress on the skin. These factors can result in fine lines, wrinkles, sagging, skin discoloration and breakouts when left untreated, but 3LAB "M" Cream helps to firm, calm and smooth out traumatized skin, naturally. To help fight the signs of aging, boost collagen production and restore hydration and firmness while decreasing wrinkle depth, 3LAB "M" Cream employs a key combination of cutting-edge ingredients including, Nano-Claire GY, Osilift, ACS (Anti-Cyto Stressor) , PhytoCelTec Malus Domestica and Happybelle, which all work to firm, relax, and invigorate the skin and promote skin cell longevity.
(www.3lab.com)
Luxe FACE Collection
Champagne and Caviar and Truffles, oh my! Om Aroma & Co has formulated the ultimate Luxe FACE Collection, which takes ultra-decadent ingredients like Caviar, Truffles and Champagne and fuses them with organic ingredients. The result is an indulgent skin care line that leaves skin soft and supple. The Luxe FACE Collection is available in both regular and travel sizes, which retail for $175 and $30, respectively, and includes Elixir de Beaut?, a Champagne Facial Cleanser, Extrait de Caviar, a Caviar Eye Cream, and Cr?me Luxe, a White Truffle Face Creme. Separate formulations are available for normal/combination, oily and dry/mature skin. Known for combining natural and organic beauty solutions with specialized science, Om Aroma & Co is an organic spa and skincare line of luxuriously rich and sophisticated products and spa treatments.
(www.omaroma.com)
Age Defense 24/7 Luxury Collection
Renowned for its cutting edge age defense technology, Osmotics Cosmeceuticals has introduced a line of skin care products to help defend your skin against future damage and actually halt aging in its tracks. Now doesn't that sound good? Osmotics' Anti-Radical Age Defense Barrier Longevity Complex is a total skin defense system that combines the newest and most powerful anti-radical protection with patented Barrier Repair Technology, whereby epidermal lipids restore and maintain a healthy skin barrier - the first line of defense. Osmotics' Cream Extreme Barrier Repair promotes a healthy and glowing complexion also through this patented, clinically proven method to repair, nourish and maintain healthy barrier function. This breakthrough Barrier Repair Technology dramatically improves moisture retention and increases penetration and absorption of antioxidants and vitamins. With the company's Age Defense Barrier Repair Body Silk, you can also age-proof your body skin to keep it looking as young and fresh as your face. Natural marine enzymes and powerful antioxidants help even out wrinkles, age spots and skin tone while protecting cells from environmental and UV damage. Daily use promotes silky-smooth, more youthfully radiant skin. The set of three is currently available for a limited edition price of $98.00
(www.osmotics.com)
Antioxidant Daily Face Protectant SPF 30 & Age Intervention Peptide Extreme
Jan Marini's Antioxidant Daily Face Protectant SPF 30 ($48) offers daily sun protection to shield the skin and control factors such as oil output and environmental sensitivity. The product contains superb built-in hydrators that also work to regulate moisture content, guard against inflammation and even enhance skin rejuvenation. Jan Marini's Age Intervention Peptide Extreme ($89) helps rebuild and rejuvenate any skin type with a highly concentrated and proprietary peptide formulation that sets a new standard for "extreme" skin rejuvenation. The product features four targeted peptide blends in combination with potent antioxidants and anti-inflammatories that impact skin on every measurable level. Hence the name, Age Intervention Peptide Extreme zeros in on peptides - tiny chains of amino acids that can be developed to specifically target how the epidermis and the dermis communicate. As people age, communication lessens due to cumulative sun damage resulting in less collagen production and, ultimately, dry, coarse and discolored skin. This product "tells" the skin that it has been damaged, allowing peptides to penetrate the skin's deepest layers and enable rebuilding activities. The result is increased collagen and elastin production that will help skin function in a more efficient and younger manner.
(www.janmarini.com)
Power of Oxygen Kit
A deep breath of fresh air not only relaxes the mind, but the skin as well. With Bioelements Power of Oxygen Kit you can treat your skin to a breath of fresh air to combat stresses and airborn pollutants that inevitably show up on our faces! Look and feel calmer with Bioelements' high-performance products designed to enhance the skin's protective barrier and "push" oxygen into the surface layers. The kit, which retails for $89, includes Oxygen Cocktail (1 oz.) - an oxygen-boosting serum of moisture-binding hyaluronic acid blended with a Tissue Respiratory Factor Complex - and Oxygenation (1 oz.) - a stabilized hydrogen peroxide cr?me derived from atmospheric oxygen. Together, these oxygen infusing products deliver powerful anti-aging and anti-bacterial benefits that result in smoother and more youthful looking skin. The Bioelements Power of Oxygen Kit also includes an Instant Emollient Stick to lubricate lips and eyes on the fly as a free bonus - a $20 value.
(www.bioelements.com)
Auriderm Illume Eye Creme
If you have dark circles and puffiness under your eyes, Auriderm Illume Eye Creme ($50) is for you. Using Vitamin K Oxide and light reflecting ingredients, this formula will lighten the area under the eye and decrease those dreaded undereye circles caused by fragile capillaries that leak blood close to the skin's surface. The pool of blood oxidizes and turns a reddish-blue color, similar to a bruise that can be readily seen through the think skin around the eyes. . The use of Auriderm Illume Eye Creme can help to strengthen the capillary walls to prevent future leakage. In addition, this creme will reduce or eliminate the pooled blood underneath the skin. Auriderm's unique patented ingredient, Vitamin K Oxide, activates the body's natural healing process to help eliminate the unsightly reddish-blue discolorations. This creme also contains other ingredients to reduce puffiness and reflect light to reduce the appearance of under eye darkness. Auriderm products are available at physician's offices.
(www.auriderm.com)
Counter Clockwise
The skin around the eyes is among the most fragile and requires special care. Fortunately for us, amino acid-based skincare line AminoGenesis has found the way to protect and enhance this delicate skin by leveraging the body's most basic building blocks: amino acids. While the chemistry involved in doing so is advanced, the logic behind AminoGeneis' formulas is highly intuitive. The 17 amino acids at the core of all AminoGenesis products are scientifically blended to match the amino acid composition in collagen, elastin, and a multitude of other proteins in the skin. For eyes, specifically, the company's Counter Clockwise under-eye treatment ($40) is a special gel/cream hybrid that soothes and renews this gentle skin to fight aging and alleviate tell-tale signs of sleepless nights. With the concentration of a cream and the water-carrying capabilities of a gel, Counter Clockwise delivers moisture, nutrients and amino acids where they are needed most.
(www.aminogenesis.com)
Equalizer Toner & Multi-Task Eye Cr?me
Each spritz of the Equalizer alcohol-free toner ($26) is laced with Bioelements Adaptogens, chamomile extract and aromatherapist oils to strengthen and soothe. Refreshing, gentle and suitable for all skin types, Equalizer hydrates just-cleaned skin while also nourishing and re-balancing to prepare your skin for the daily moisturizer After the toner, don't forget to treat the area around the eyes in need of special care. Bioelements Multi-Task Eye Cr?me ($35) is up to the task. Light and non-greasy, this supercharged formula combats dark circles and eases puffiness. And, this one tube can replace many in your regimen. Formulated with pigment-lighteners, firming lipoic acid, brightening antioxidants, strengthening beta glucan, de-puffing cucumber, healing Chinese herbs and moisturizing shea butter, Multi-Task Eye Creme does the work of several products at once.
(www.bioelements.com)
HIS Bioelements
Did you know that, each year, men pull a razor across their face an average of 5,200 times? In light of this hair-raising statistic, Bioelements has introduced four products designed to address the specific shaving and skin care concerns for men. The company's Volcanic Mud Soap ($18) is a daily cleansing bar that scruffs off dead skin and defends against breakouts on both the face and body. The bar is infused with ground oatmeal that works as an exfoliant, volcanic mud to detoxify and natural oils to counteract dry skin. Next comes Bioelements Pre-Shave Cleanser ($25), Perfect Shave ($23.50) and Post-Shave Serum ($25), which all work together to reduce the risk of razor burn and irritation, prevent troublesome ingrown hairs and ultimately leave skin feeling clean, comfortable and smooth.
(www.bioelements.com)
******HAIR AWARE******

Eufora International Hair Care Products
Eufora International, a company known for its organic Aloe Vera Gel hair formulations, takes eco-conscious hair care very seriously. Since 1997, the company's unique blends have protected, preserved and promoted hair health with pure aromatic essential oils in combination with the most advanced botanical, vitamin and non-carcinogenic ingredients available - those with scientifically proven benefits to the hair, scalp and skin. Eufora has introduced a line of non-carcinogenic products that I've come to use and love. Its Urgent Repair Shampoo ($23), a biodegradable detoxifying cleansing treatment, gently removes dulling and damaging build-up and prevents further damage from heat styling and environmental stresses. The Urgent Repair Replenishing Treatment ($23) is a wonderful intensive repair for dry or damaged hair. Guilty as charged. Eufora's Curl'n Defining Solution and Spray Revitalizer (both $20) team up to manage curls and waves - for those lucky enough to have them - by creating humidity/frizz resistant, touchable curls that hold their pattern. Both leave-in formulas add shine and moisture to dry, dull hair without leaving hair crunchy or tacky. Love that! (www.eufora.net)


Hamadi EcoPac
This travel-size package of 100% organic hair care lets you take your green beauty regime on the road! Created by top Beverly Hills celebrity hairdresser Jamal Hamadi for use on his personal A-list clientele, the eco-chic Hamadi EcoPac, which retails for $30, contains 2 oz. sizes of the Hamadi Ginger or Honey Soymilk Hair Wash, Shea Rice Milk Conditioner, and Healing Serum. The hair wash is gentle enough for every day use, hydrating without weighing hair down. The conditioner is for all hair types, formulated to smooth, moisturize, nourish and fortify. The Healing Serum is "rehab for hair" - a leave in treatment to replenish the look and health of damaged hair. And, the lightweight, all-natural woven pouch in which the bottles are encased can even be used as a wash cloth. How convenient! So whether at home or on the road, the Hamadi EcoPac will ensure your hair looks and feels its absolute best without compromise to Mother Earth. (www.hamadibeauty.com)



******BODY CONSCIOUS******

Auriderm Clearing Gel and Post-Op Relief
With its Clearing Gel ($40), Auriderm harnesses topical vitamin technology to diminish spider veins - those unsightly, small, thread like veins most often seen on the surface of the skin. They are often formed when a tiny pinhole tear occurs in a capillary beneath the surface of the skin allowing the blood to leak and pool beneath. Auriderm Clearing Gel can help to strengthen the capillary walls on the face and body to prevent future leakage, and reduce or eliminate blood that has pooled underneath the skin. Auriderm's unique patented ingredient, Vitamin K Oxide, activates the body's natural healing process to help eliminate the unsightly reddish-blue discolorations. If you're planning a surgical nip or tuck, strongly consider Auriderm's Post-Op Gel ($25) to promote post-procedural healing and improve the appearance of bruising. Auriderm's Post-Procedural Relief Kit ($40), which combines the Post-Op Gel with Arnica Montana Tablets, can actually the recovery time of post- procedural bruising and swelling in half. These Auriderm post-op products, available at physician's offices, will make you look and feel better, faster. (www.auriderm.com)

The Joy of Soap
All soaps are not created equal! The soap you use makes all the difference in how your skin looks and feels - a fact The Joy of Soap knows all too well. The company produces a wonderful line of all natural organic soaps that are handmade from scratch. No chemicals or fragrances are used, but rather only floral essences and natural botanicals that will leave your skin smelling incredible. Trust me...people will notice! Available scents include Gardenia Goosebumps, Peppermint Passion, All Night Almond and Feeling Frisky. What's more, green thinkers will be happy that The Joy of Soap's packaging is made from recycled and recyclable materials. At just $3.50 for the 2oz bars and $7.50 for 5oz bars, this soap is something to be joyful about indeed. (www.thejoyofsoap.com)

Flawless Fingers
When one considers beautification strategies, they best not forget their fingers - among the first things on our bodies others see...and judge. Luckily with Flawless Fingers' disposable nail polish applicator ($15 for 3 also with universal bottle cap), your nails can look salon-fresh as if they were painted by a pro. We gals know that lacquering our own nails can be extremely difficult and messy, but this innovative nail polish "guide" actually prevents the polish from coming into contact with your skin as you apply it. Save yourself time and skip the salon - paint those nails yourself and look just as fabulous. (www.flawlessfingers.com)


Citra Formaldehyde Free Nail Strengthener
Before you paint those nails, ensure they are as healthy and strong as possible so that you can truly put your best hand forward. Nail Tek, Inc.'s Citra Formaldehyde Free nail strengthener ($15) actually increases the production of nail-producing cells using a natural citrus based ingredient - citral - instead of formaldehyde, the more commonly used strengthening agent. Citra Formaldehyde Free promotes a healthy approach to the growth and repair of the nail, and it has been clinically proven to help increase flexibility and durability while maintaining the nail's natural moisture balance. This nail strengthener, which may be used regularly as a basecoat and topcoat, comes in three distinct formulations based on differing needs: Formula 1 to maintain already strong, healthy nails, Formula 2 for soft, peeling nails to thicken and promote growth, strength and flexibility, and Formula 3 for dry, brittle nails to replenish natural moisture and make it stronger and more stress resistant. (www.nailtek.com)

The Luxe List product review editor Merilee Kern scours the luxury goods marketplace for new and innovative must haves. Product submissions accepted via e-mail at Merilee@JustLuxe.com.

- Merilee Kern
JustLuxé.com's "The Luxe List" Product Review Editor

M Cream

Om Aroma and Co

Osmotics Cosmeceuticals

Antioxidant Daily Face Protectant SPF 30

Age Intervention Peptide Extreme

Power of Oxygen Kit

Auriderm Products

Auriderm Clearing Gel

Counter Clockwise

Bioelements Equalizer

Bioelements Multi-Task Eye Creme

Bioelements Pre Shave

Bioelements Perfect Shave

Bioelements Post Shave

Bioelements Volcanic Mud Soap

Euphora Hair Care

Hamadi Beauty Bag

The Joy of Soap

Flawless Fingers

Citra Formaldehyde Free Nail Strengthener