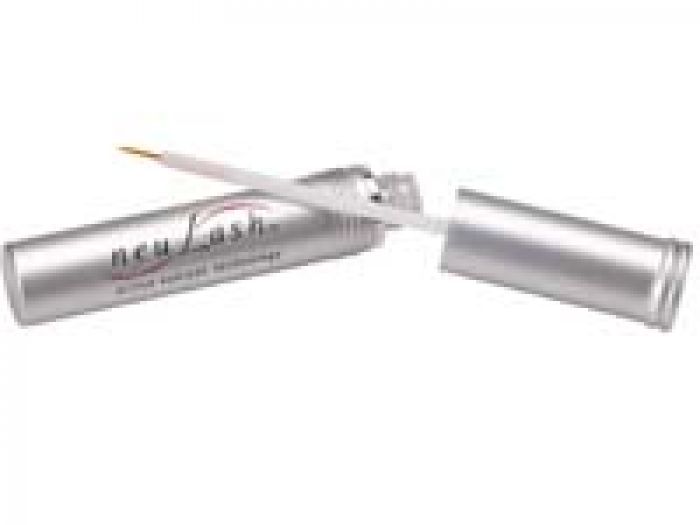 Health & Beauty:
Over-plumped lips are so yesterday! This year, it's all about the eyelashes. What woman doesn't want thick, long eyelashes that make a statement unto themselves? But, those genetically challenged in this department often go to "great lengths" to achieve the eyelash look they so desperately desire.
From uncomfortable false eyelashes to eyelash extensions that require upkeep to clumpy mascaras that can actually make your ocular locks dry, brittle and generally unsightly (raccoon, anyone?), one wonders if it's worth the effort.
Happily, eyelash technology has come a long way, baby! There are a number of great products on the market to make your natural eyelashes and brows thick, long and healthy in the blink of an eye. Here are two great options:
neuLash
(www.neuLash.com)
Created by Skin Research Laboratories and approved by dermatologists and ophthalmologists, neuLash ($150) actually improves the overall appearance of natural eyelashes and eyebrows in as little as two weeks. A serum comprised "bioengineered polypeptides" rich in amino and fatty acids, neuLash naturally protects and strengthens lash and brow hair, making them longer, fuller, shinier and generally healthier.
The chemical compounds used in neuLash have been independently tested to assure its safety and efficacy. And, anyone can use this lash and brow savior-it's safe for both women and men, those with eyelash extensions already in place, and even people who wear contact lenses.
While this product is most definitely high-tech, it certainly doesn't take a rocket scientist to use it. Simply apply once daily in the evening before bedtime to the base of the upper eyelash on a clean, dry area, starting from the inner corner of the eye to the outer corner, as well as the lower lash line. Two to four weeks later - viola! Lovely lashes others will envy.
LashFood
(www.LashFood.com)
Another fab find that will produce the sultry, come hither lashes you've always wanted is JB Cosmetics' LashFood ($129). This ground-breaking, all-natural eyelash conditioning stimulant promises to give you thicker, stronger, darker, and longer lashes and brows also in as little as 2 weeks.
LashFood's breakthrough cocktail of natural ingredients, including Biotin (an essential vitamin), Arginine (a natural amino acid), and root and herbal extracts, conditions, repairs and restores eyelashes and eyebrows. LashFood, which may also be used in conjunction with mascara or eyelash extensions, will continue to prove results over time if used on a consistent basis.
Feeding your lashes and brows couldn't be easier. The applicator is very similar to that for liquid eyeliner. Just apply the stimulating serum nightly along the root of the lashes or brows. For faster results, apply LashFood in the morning as well. One tube lasts for upwards of five months!
~~~
Eyelash Styling Tips!
Once your lashes are as long and lovely as you want them to be, here are some styling tips for you compliments of the experts at neuLash:
Attract attention by applying 2-3 coats of mascara all around the eyes with deep-colored mascara around the outer corners to create a more intense look.


If you have close-set eyes, concentrate the majority of mascara on the outer half of the lashes with a second application to help visually widen the eyes.


Help tired and puffy eyes by prepping the lashes with a light application all around the eyes. Focus the second application of mascara on middle lashes to recede the eye lid area that may be protruding. Shimmering mascara will help to brighten tired eyes.


Lighten heavy eyelids by using an eye lash curler to create an upward illusion and then apply an even application of mascara all around the eyes.


For wide-set eyes, apply the majority of the mascara towards the inner half of the eye to visually narrow the eye space.


Reduce the width of a round face by just using mascara on the top lashes only to create an elongated appearance to the face.


Create a round and soft lash look by applying one even application of mascara around the eyes while emphasizing the corners of the eyes by using the excess mascara on the tip of the wand.


Begin to even up a heart-shaped face with a single application of mascara to the lashes on top and bottom. Focus a second application of mascara to center lower lashes to soften balance the facial shape.


If you wear glasses, try curling the lashes, keep the mascara soft and light all around the eyes, and use a shimmering mascara to accent the eye color.


To detract from the forehead, create fringed lashes by applying a second application of mascara using the tip of the mascara wand. Keep the focus on the lower lashes.


To detract from the nose, focus the mascara application on the outer half of the eyes with minimal product on the inner corners. Use colored or shimmering mascara

The Luxe List product review editor Merilee Kern scours the luxury goods marketplace for new and innovative must haves. Product submissions accepted via e-mail at Merilee@JustLuxe.com.

- Merilee Kern
JustLuxé.com's "The Luxe List" Product Review Editor