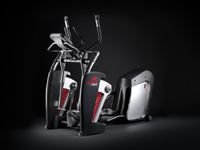 Health & Beauty:
As a die hard, life-long exercise enthusiast, even having won a few fitness competitions in my day, I'm indelibly on the hunt for new and exciting ways to stay motivated and on track toward my physical fitness goals. Logging four to five workouts each week for years on end, I've conquered more than my fair share of exercise apparatus -- few, if any, with a notable "wow" factor. As such, I was excited -- albeit skeptical -- to learn about a new machine called the Agile Dynamic Motion Trainer (DMT) by Smooth Fitness, a next generation elliptical purported to be "the most advanced home fitness trainer ever developed."
This certainly sounded good on paper, but would reality live up to the hype? I was hell bent on finding out!

I knew the moment I stepped onto the sturdy device and slipped my feet into the ergonomic "Surefit" pedals that I was in for an elliptical workout unlike any I had ever experienced. And I was right. The Agile DMT lived up to its marketing speak and more than delivered on my high expectations. Indeed, during my intense cardio sessions muscles throughout my body were also utilized in entirely new ways -- and I remained interested and engaged all the while. Because the Agile DMT provides such a great tandem full body cardio and musculature workout, I've actually cut back on my weight training and have more free time these days. Love that!

Radically different from the glut of cookie-cutter, one-dimensional cardiovascular machines that dominate the home fitness marketplace, I can attest that the Agile DMT sits squarely at the top of the evolutionary elliptical food chain. Indeed, this multi-faceted, ergonomically advanced full-body trainer represents an entirely new breed of home exercise equipment for its ability to produce dramatic cardiovascular and muscle toning results -- all in the same workout.

The Agile DMT is a welcome break from long-standing tradition -- or dare I say complacency -- in this space. Combining versatility with ergonomics, this masterfully engineered piece of equipment is actually two machines in one. Standard elliptical machines offer a very limited range of motion, or exercise path, for the body. The simple push of a button on the Agile DMT allows users to switch between regular elliptical mode and an advanced "Agile" mode with patented contra-lateral (diametrically opposed upper and lower body) motion.

In Agile mode, many things become immediately apparent: the body moves in a greater range of motion, heart rate accelerates, and multiple muscles throughout the upper and lower body and core are in play. Even with all of this activity, the joints are not stressed in the least -- something I was thankful for since my ankles didn't ache and my feet did not go numb as they usually do after about 20 minutes on a typical elliptical.

Exceptionally smooth, fluid and purposefully designed to work in accord with the human body's natural walking movement, the Agile DMT duly conditions the body's cardiovascular system and major muscle groups without adversely affecting bones and joints. The patented pivoting, shock-absorbing foot pedals noted above also help reduce joint stress and eliminate heel slap, which can make toes go numb and heel arches sore.


The Agile DMT's 20 levels of intensity and no less than 12 "biomechanically correct" motions are the key features allowing this machine to recruit and tone several key muscle groups concurrently, improve balance, coordination and stamina, strengthen the heart and lungs, and burn more calories than its lesser elliptical counterparts. In addition to a manual program function allowing users to control and personalize each session, nine other popular programs are available, including time, distance, calories interval, endurance, and fat burning. Within each, there are pre-sets or you may opt to customize a program based on your personal fitness goals. With so many different settings to choose from, your body will remain challenged and will avoid the dreaded plateau.

Despite the array of technological advancements, features and options, the machine is surprisingly user-friendly. A genius "Lite Touch" laser thumb control on each handlebar enables quick program, intensity and mode adjustments while allowing hands to remain securely fastened. EKG pulse sensors are also ergonomically positioned on the handlebars to easily monitor heart rate. Alternatively, the Agile DMT also comes with a wireless chest strap that will automatically adjust the intensity of your workouts based on the heart rate you set at the start of each session. Of course, there is also a handy beverage holder to keep your water bottle -- that also comes with the unit -- at hand.

With this ingenious elliptical, you'll no longer have to toil for hours in the gym or on multiple pieces of equipment to achieve a full body workout. Just 30 minutes on the Agile DMT and your upper body, lower body and cardio workout will be done. Stick with it and the mirror is sure to become your new best friend.

The Agile DMT is available for purchase online at www.SmoothFitness.com with an MSRP of $4,999, although it's currently available for a sale price of $2,999 with free in-home delivery and a two-year labor warranty.

The Luxe List product, service and travel review editor Merilee Kern scours the luxury marketplace for new and captivating "musts." Product submissions accepted via e-mail at Merilee@JustLuxe.com.

- Merilee Kern
JustLuxé.com's "The Luxe List" Executive Review Editor