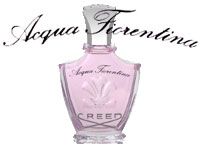 Luxury Perfume:
Discreet and family-owned, Creed is known for being the best-kept secret of the perfume industry. Their hand-made and exclusive fragrances remind us that not all luxury scents come from huge, heavily-advertised, international brands.
This month, Creed debuts their latest fragrance for women: Creed Acqua Fiorentina. Sixth generation master perfumer and president of the House of Creed, Olivier Creed, and his son Erwin have expertly crafted the new fragrance, which will be sold exclusively at Neiman Marcus and Bergdorf Goodman.
For their newest fragrance, Olivier Creed turned to 15th century Florence, Italy for his inspiration. The city's history is a breeding ground for beauty and the culture lends its voice to the scent beautifully, allowing Acqua Fiorentina to stand out.
What sets the brand, and all of its fragrances, apart from the titans of the perfume industry is its unrivalled dedication to introducing products of the utmost quality and exclusivity. The fragrances are hand-made, which is something corporate-owned fragrance brands cannot say-- and the brand's unrelenting high standards keeps Creed's reputation in pristine condition.

Acqua Fiorentina consists of flowers and fruits from the orchards and gardens around Florence, taking not only its inspiration from the city, but its main ingredients as well. The top note of the scent is greengage plum, lightly sweet and often used in cuisine as a dessert plum. Bergamot orange, Calabrian lemon, pink carnations and Renaissance roses fill in the portrait of fruits and flowers as the middle notes and Virginia cedar and Indian sandalwood are warm base notes.


Fans of Creed have ranged from royalty (Queen Victoria appointed the brand an official supplier to the Royal household) to legends in business to their discerning clientele based all over the world.

Creed remains today as the world's only privately held luxury fragrance dynasty, passed from father to son since it was founded in 1760, almost 250 years ago. Now, Olivier Creed, sixth generation master perfumer and current head of the House of Creed, works alongside his son Erwin, who is preparing to lead the company as the seventh generation of the family.

Acqua Fiorentina proudly represents Creed as its latest, and one of its finest, fragrances to date. Pink in color, the fragrance also supports a cause: during the month of October, a portion of proceeds from US sales will support the National Breast Cancer Coalition Fund.

Not only does Acqua Fiorentina symbolize Florence and its beauty and prosperity, but a brand that stands firm in its traditions of excellence and passion in the field. As Creed continues to rest in the hands of the same family that began the legend, fans can be sure that the same rigorous standards will be upheld, for generations to come.

For JustLuxe Kate Prihoda

Aqua Florentina by Creed

Erwin Creed