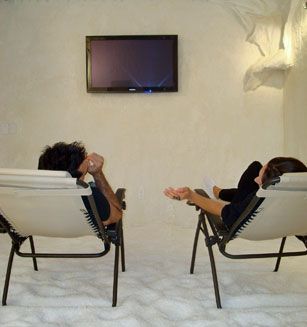 Health & Beauty:
The latest spa
therapy
works from the inside, to get rid of toxins and tar and bacteria, to help you breathe easy. Known as salt therapy, it has long been used in Israel and Europe to treat ailments including asthma, bronchitis and allergies. Better yet, it can also clear up problems on the surface of the skin too, like psoriasis and acne.
How does it work? Head to a salt therapy treatment center and lay back and relax in a salt filled environment for 45 minutes.
The Salt Chalet
in Encino, CA provides guests with lounge chairs, flat screen televisions and magazines as well as other amenities.


In New York, Halo/Air provides a salt cave for guests interesting in some salt purification. The Israel-based chain offers Ukrainian-salt coated rooms and even a playroom for kids suffering from respiratory ailments.

Don't worry about bloating, or blowing your low-sodium diet as the salt won't affect you because you're not digesting it.