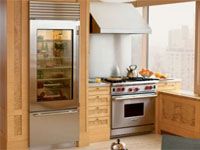 Today's biggest names in luxury kitchen and culinary design have come together to offer you the chance of a lifetime. This year, the 6th annual Sub-Zero Dream Kitchen sweepstakes is giving away a $50,000 dream kitchen including some of today's best and most sought-after brands.

The sweepstakes, which was created and developed by Sub-Zero, features products from Wolf, Kohler, McGuire Furniture, Baker Furniture, Ann Sacks, FIJI Water, uncorked.com and Saveur Magazine.

Since the creation of the sweepstakes six years ago, it has been one of the best giveaways in the industry, and this year is no exception.

Sub-Zero is giving away not only their unique glass door refrigerator/freezer, but their under-the-counter wine storage refrigerator as well. And incase you are concerned with keeping the wine refrigerator stocked, don't worry. The sweepstakes includes 48 bottles of wine and a one-year membership to the uncorked.com Discovery wine club.

But it doesn't stop there. Wolf is contributing their unparalleled 30" gas range stove and ventilation while Kohler is giving away $5,000 in product. Ann Sacks is matching Kohler with $5,000 in product as well, making your kitchen functional and up-to-date with the latest culinary design trends.

While Sub-Zero is offering you the chance to win a once-in-a-lifetime prize, they have also designed an unparalleled mini-site, which allows anyone looking for design ideas, tips and suggestions to get a little help. Extensive photo galleries featuring Sub-Zero and Wolf products let you see their designs in real homes and in a wide array of different design environments giving you a better idea of how they would fit into your own home.
The site also provides kitchen trend articles, giving you information on today's hottest looks and trends in the most forward-thinking kitchens and the Video Designer Series, featuring interviews with today's leaders in culinary design and innovation. From top-tier kitchen appliances to a year's supply of product from FIJI Water, some could argue this is the best sweepstakes by Sub-Zero yet. There is no time better than the present to enter - the sweepstakes ends on August 15th. It's time to start imagining the possibilities for both you and your kitchen.

For the chance to win your dream kitchen, visit their website at www.subzero.com/dreamkitchen.