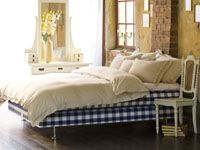 Home Decor:
We all use them every day, we have rooms dedicated to them, and they have an enormous impact on our wellbeing. They are, of course, beds and are generally not considered a luxury product. This is where Swedish bed maker, Hästens, has made a name for itself.
As the oldest bed manufacturer in Sweden, Hästens' technique is deeply rooted in its 157-year history. In 1852, when the brand was founded, they mainly manufactured saddles and carriage furniture. At that time, the company only made beds on demand, but it didn't take long until their mattresses soared in demand and became their primary business.
While most mattress brands are looking to lower price points, Hästens is looking to increase quality, aimed at sacrificing nothing in the face of a good night's sleep. Hastens makes each bed by hand, and is the only bed manufacturer to have all their beds awarded the Swedish Svan environmental certification, lending to the brand's exclusivity and exceeding quality.

This year, Hastens has introduced their next generation of its renowned Continental Bed Collection, adding three new beds, each one more luxurious and extravagant than the last.

The new line of beds begins with the Luxuria, which represents an entirely new bed design for the company. The Luxuria utilizes all the knowledge and experience gained by Hastens' master craftsmen over the years and provides complete comfort by doing what Hastens beds are known for: conforming to the shape of the body from head to toe while still providing excellent support. The base of the bed is Hastens' patented spring system, followed by two layers of padding of hand-placed genuine horsehair and four layers of 100% natural cotton and wool.

From there, Hastens updates the Excelsior by adding two additional layers of cotton, wool and genuine horsehair and replacing the need for the layer of flax, which increases pliability. The changes provided in the Excelsior II offer increased support and provide a more supple sleep experience.

But where Hastens truly shows their experience and exceptional craftsmanship is in the elite, Hastens 2000T II, one of Hastens' most exclusive beds. Evolved from the Hastens 2000T, the bed now utilizes a unique system of layering, allowing for ultimate flexibility and a spectacular night of rest.


The original Hastens 2000T was the company's first ever three part bed, with a bottom section containing their famous Bonelle spring system, a second thick spring mattress, and then a top mattress adding even more softness. Now, the Hastens 2000T II features six layers of 100% natural cotton and wool, and four layers of the hand-placed, genuine horsehair. Just as in the Excelsior, the layers of flax have been removed, which has eliminated even the smallest possibility of change in density over time.

Hastens beds range in price from $8,450 for the Luxuria, $13,650 for the Excelsior II and $23,250 for the 2000T II, and represent a culmination of the brand's research into better sleep over the past 157 years.

For JustLuxe Kate Prihoda