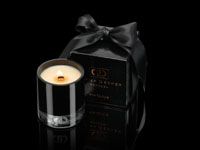 Home Decor:
We often overlook home fragrance as a pivotal part of home décor, but DayNa Decker has been hard at work to remind us just how important it truly is. With the introduction of long lines of candles, essence diffusers and fragrance collections, we are reminded that scent can become an integral part of our living spaces.
What you notice first about a candle from DayNa Decker is the flame. It is not your typical, teardrop flame and this is due to the revolutionary wick technology developed and patented by DayNa Decker. The EcoWood Wick is more beneficial than the typical cotton wick found in most candles.
All EcoWood Wicks are made from organic, sustainable wood, gained from a natural manufacturing process. Because of this, the wick always remains rigid and upright, therefore making it safer, and has less post soot dispersion with little carbon build up. Its organic composition allows for longer, cleaner burning, allowing you to enjoy a DayNa Decker Chandel longer than your average candle.

Founder and Chief Creative Officer DayNa Decker brings her experience in the design field to the home product market, bringing the industry a level of design and sophistication it hasn't seen before. Her focus on creating a luxurious, multi-sensory experience combined with a minimalist design and eco-balanced formulations makes DayNa Decker not only a leader but an innovator of luxury home products as well.

In addition to completely changing the way a candle looks when it is burned, DayNa Decker has taken the innovation one step further by combining the distinctive flame with ideals for home design and decoration. Luminesse sculptures bridge the gap between your ordinary oil-burning candle and exclusive light sources.

The sculptures are available in several shapes, allowing you to choose the level of impact it will make on your home and guests. A small, cylindrical sculpture is more subdued, while the larger, round sculpture makes a statement by tapering at the bottom but widening at the top with a dramatic effect. Each are made of sustainable woods from a natural manufacturing process. But the most eye-catching of the three are the Aston Petit sculptures, whose long flame that stretches across the top plays off the sculpture's geometric shape for a lasting impression.

Whether burning a DayNa Decker candle or a Luminesse Sculpture, the lasting impression is the ambiance produced from the sleek presentation of fragrance, and the captivating fragrances themselves.


Consisting of several collections, you can choose the right element for your home. Botanika houses its fresh fragrances in hand-blown, recyclable green glass, celebrating the beauty of nature with fresh, vibrant scents, while Flora highlights the purity of fresh floral and woods in nature in opaque white glass with radiograph images from photographer Steven Meyers. Finally, for the candle that will make an impact in your home or as a luxurious gift, the Couture collection is dramatic and provocative in elegant black glass. All the candles feature creamy wax made from botanical blends with soy and palm, leading to long burning times.

DayNa Decker is busy at work changing the way we experience fragrance in our homes, creating both an olfactory and visual experience, integrating something that can be quite simple and overlooked into the overall ambiance of your living space. From the candles that utilize the revolutionary EcoWood Wicks to the stunning design of the Luminesse Sculptures, DayNa Decker's designs are influential and stand out boldly amongst competitors that simply can't reach the same level of aesthetic or innovation.

For JustLuxe Kate Prihoda