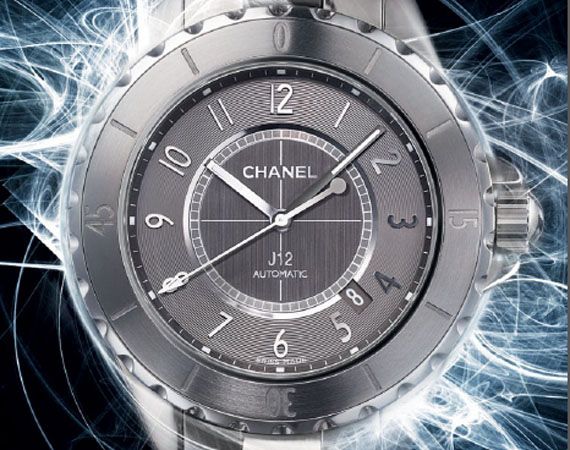 Photo Courtesy of Chanel
Chanel
's J12 watches have become sought after accessories since launching in the earlier part of the millennium. A decade later, they're only getting better with the introduction of the J12 Chromatic.
The J12 Chromatic has the same timeless look and sleek sophistication as its predecessors. But the new watch has something else no other watch has: near indestructibility thanks to a titanium ceramic casing which is almost as hard as sapphire. Though the hands on the watch will constantly change, its stunning look will remain just as striking and flawless years into the future.
The titanium ceramic casing offers not just durability but a unique design color that hovers between black and white, iconic favorite colors of Gabrielle Chanel. A special polishing technique, inspired by diamond powders polishing sapphires, creates the finish on these beautiful and long-lasting watches that are a brilliant, nameless color. The result is a shiny metallic finish reminiscent of fine metals like gold and platinum, but even richer.
Available in both male and female versions,
J12 Chromatic
timepieces come in a wide spectrum of designs that highlight its key features. There are seven models in the J12 Chromatic collection including a 33 mm with Quartz movements, 38 mm and 41 mm with automatic movements in two versions; with either round or baguette-cut diamonds. The dazzling features are fused with a unique dial design, a combination of a circular pattern on the outer dial and a brushed steel inner dial.
The "totally new material" succeeds in fulfilling Chanel's legacy of continually innovating fashion while maintain its timeless appeal. The J12 Chromatic is already abuzz amongst watch aficionados who view it as the ultimate fashion meets function accessory.