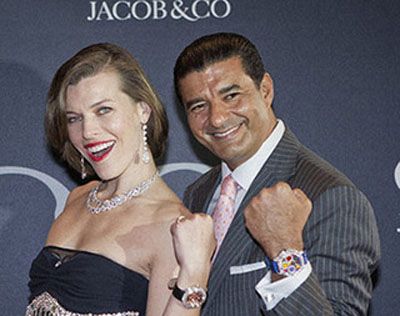 Ukrainian-born super model, actress, musician and cover girl Milla Jovovich is the new spokesperson for
New York City
-based luxury watch- and diamond- jewelry house, Jacob & Co.
The glitzy announcement of the company's newest employee came forth most effervescently last week in Switzerland during an elaborately planned evening fete hosted by Jacob & Co's owner, Jacob Arabo. Mr. Arabo is among the most in-demand jewelry designers of modern-day royalty personalities. He welcomed the celebrated cover girl of more than 150 magazines as his newest employee directly from his showroom booth on the convention floor at Baselworld. The professional conference is the singular most significant annual event attended by professionals of the fine jewelry and
watch industry
.
The red-carpet affair featured a Dom Perignon Champagne bar and high standing, illuminated tables, which fit in both ornamentally and functionally with all those tall and willowy female models in regally representative garb of Moscow, Hong Kong, London, Dubai and New York. The globally themed soiree highlighted five time zones with its geographical fashion statements. Master of ceremonies DJ Kay Rush provided the entertainment for the evening.
Photographers lined up for more than an hour in anticipation of breaking news and to snap a pic (or two) of one of the most photogenic women on Earth.
Ms. Jovovich and Mr. Arabo made a grand entrance, strolling in side-by-side on the VIP red carpet. In no less than five languages, MC Kay Rush introduced the actress/model as Jacob & Co's new spokesperson, driving home the global significance attached to the private party. Ms. Jovovich then addressed the gathering and spoke of her commitment to the brand's upcoming campaign.
"This evening is an important milestone for
Jacob & Co.
," said Mr. Arabo. "We have been looking for the right personality and beauty that represents what I call "the Jacob Girl." She is a sophisticated world traveler [who is] self accomplished and exudes an assertive feminine personality. Lastly, she is absolutely gorgeous!"
Mr. Jacob Arabo launched his flagship store in NYC in 2004. Jacob & Co. provides Swiss-made timepieces and precious jewelry for both discerning men and women. Jacob & Co. collections are sold worldwide.
Photo Courtesy of Jacob & Co.