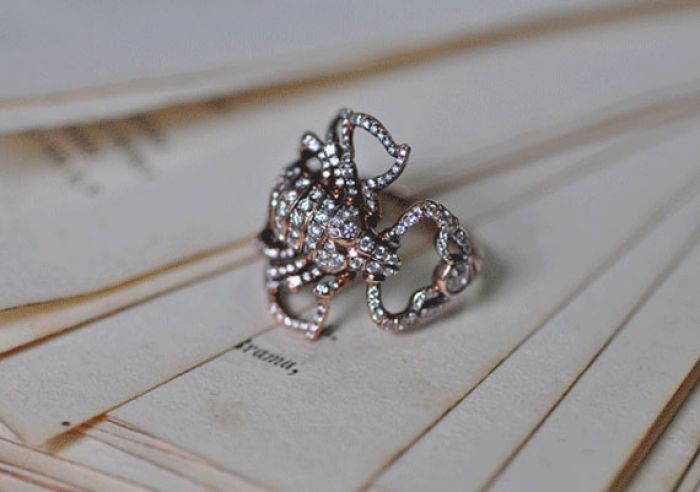 Photo Courtesy of St. Kilda
St. Kilda Jewelry is a testament to the eclectic background and cultured life of proprietor Nora Kogan. Raised in a home where "the art of collecting" was both a value and a form of self-expression, Koganís aesthetic attitude is that of a keen-eyed
world-traveler
who understands the value of surprise.
Surrounded by indie stores, charming restaurants and other eccentric staples, her Park Slope-based jewelry shop has become the central hub for one of jewelry designís rising talents. With St. Kilda, Australia, as the creative ground and setting, Kogan grew up watching as artists, intellectuals, junkies and locals fancied the Eastern European-filled neighborhood streets with their unique endeavors and ideals.
Always captivated by the fast-paced fashion world, she began skipping class to buy the most recent issue of Vogue on magazine stands, and the halls of her school quickly became the catwalk for her early creativity. Once of age, Kogan traveled throughout Japan and Europe, but it was during her study at a yeshiva in Israel that her calling for the artistic world came to light.
While in Tsfat (the birthplace of Kabalah), Kogan recognized her passion for jewelry making and eventually returned to her native Australia to study goldsmithing and the technical side of the art at the Northern Melbourne Institute of Technology. After finishing her degree, she abruptly cut an apprenticeship short when the opportunity to move to New York came knocking.
Known for using recycled metals and conflict-free stones, Koganís pieces are handmade with the tender love and care of her kindred staff. Glamorous, fierce and delicate, her collections feature diamond snake bangles, bone cuff bracelets, skull necklaces, black swallow earrings and scorpion rings that are just as tempting as they are off-putting.
Dusted in diamonds and plated gold themes (rose, yellow), Koganís aesthetic speaks to the dark, twisted intersection of nature and beauty. "Itís only when I design something Iím happy with that I get a respite," she remarked of her puzzle-solving approach to design, before admitting: "Iím never satisfied."
Koganís clientele consists of Marni, Balenciaga, Givenchy and Margiela-inclined fashionistas, and she confidently designs her jewelry with such an audience in mind. That said,
St. Kildaís jewelry
has a personality of its own and its goal is to outlive the trends of seasoned jewelry with one-of-a-kind statement making detail and craftsmanship. And sure enough, Koganís collections have gone beyond her obvious audience, even catching the attention of male artists and architects for their raw beauty and independent, fashion-forward edge.
Recently shifting her focus to customized wedding and engagement rings, Koganís one-time hobby now has the multi-faceted range of a truly accomplished designer. Selling at ABC Home in the city has helped distribute her brand beyond the loyal Brooklyn-based faÁade of her quaint store. With an LA branch on the horizon and Fred Segal backing her as well, Kogan remains humbled by her fine tuned hand and passion. "Iím not interested in overextending myself," she says playfully. "Iíd be happy with just a few really good accounts like, say, Barneys."
This post originally appeared at
JCReport.com
.