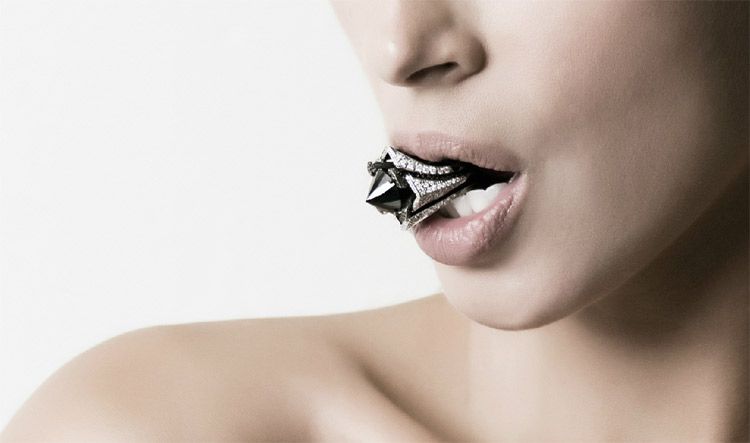 Photo Courtesy of Azature
Azature, the epynonmous
luxury brand
of jewelry by Hollywood-born designer and "Black Diamond King," Azature, is worn by some of the world's biggest name celebrities, including Beyonce, Miley Cyrus, Rihanna, Megan Fox, and Scarlett Johanson. After majoring in sociology and business at UCLA, Azature went onto Parsons School of Design where we honed his skills and natural eye for aesthetics and proportions.
Much of Azature's work is solid and heavy-bodied with a slightly gothic, industrial-like feel that has captivated
designer fashion trends
, winning Azature repute among other fashion icons such as Alexander McQueen, BCBG, and Dior. Azature launched his first collection of jewelry in 2007, which debuted, in addition to a new metal compound, what has now become the designer's trademark—black diamonds. In 2008, Azature was chosen to the be the featured artist in GenArt's Fresh Faces in Fashion and was a semi-finalist for the Ecco Domani Fashion Fund.
Azature continues to fuel his growing prestige with several collections that include a range of stunningly designed necklaces, rings, bracelets, and cuffs. In 2009, Atelier, Azature's exclusive white glove private service, was introduced, allowing customers to request personal consultations for jewelry design. All of Azature's lines are based off the AZATURE black diamond collection. In an interview with Douglas Gollan of
Elite Traveler
, the designer described A.Z. by AZATURE as, "carrying the essence of fashion forward," while the A.Z. Dynasty collection features pieces that "combine over-the-top opulence of the 1980's with a signature, youthful edge."
Azature strives to create pieces that can be worn by both men and women, and consistently pushes the design envelope. Most recently Azature crossed over from jewelry making to the culinary arts with the launch of his new line of fine chocolates with names such as Black Diamond Wild Treasure Cocoa. "Like it's black diamond counterpart," Azature says, " the line is inspired by exclusivity."
To learn more about Azature's collections visit
Azature.com