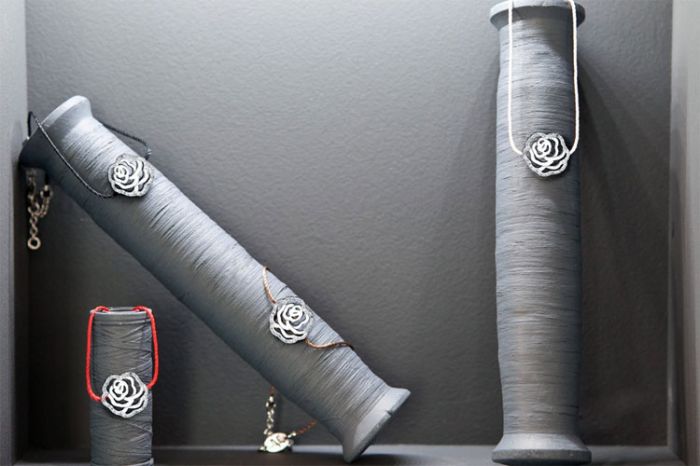 Photo Courtesy of Vanessa Tugendhaft Joaillerie
We've heard of jean bars, we've heard of beauty bars, but the next thing to hit the scene just may blow your mind.
Luxury jewelry
designer Vanessa Tugendhaft recently opened her first store in Paris, but unlike typical boutiques, this one includes a— wait for it— diamond bar. We knew you'd be thrilled.
The boutique, which can be found on Rue de L'Abbaye behind the Saint-Germain-des-Pr?s Church, offers products from both the designer's jewelry and luxury handbag line. She opted to make her first shop truly unique by going beyond the expected and making it a "diamond concept store." "The idea is that people come and sit at the bar and choose a single diamond, perhaps as a gift or keepsake," Tugendhaft told
WWD
.
You may not have heard of Tugendhaft, but there's a good chance you may have seen her work before on stars like Madonna and Kate Hudson. These stars helped the designer establish her name in the industry by wearing her fine bracelets that feature a single small diamond on a thin colored thread. These days, Tugendhaft is working on expanding her brand by designing jewelry that incorporates intricate designs— like roses and even theatrical masks— and she's also got another unique project up her sleeve.
This fall the designer will release three jewelry-inspired scents. One limited-edition 50-ml bottle will incorporate a $758.25 diamond rose that can be extracted and made into a piece of jewelry by Tugendhaft once the perfume is finished. The customer has the luxury of requesting a jewelry style of their own choice at no charge. Once they're released in November, you'll be able to find the eau de parfums at the beauty bar, as well.