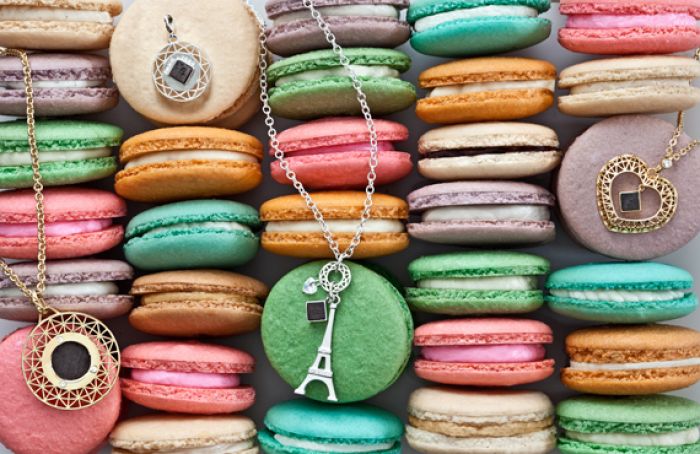 Photo Courtesy of Korbella Jewelry
Romantics everywhere rejoice. The very symbol of romance, the Eiffel Tower, has finally been made into
luxury jewelry
. You've probably been waiting for this moment all your life if giving your loved one a diamond necklace has never been enough. You always knew that it would happen, and now, Korbella Jewelry is offering pieces not only inspired by "the strong architectural cues of the Tower," but also some special pieces that are made from a segment of the antiquated spiral staircase.
Paul Michael Bedell, creator, and chief creative officer of Korbella Jewelry may seem like an unlikely jeweler. He worked for 25 years as a business executive for a number of prominent companies. He was inspired however, on a visit with his family to the Eiffel Tower to pursue the business when his 9-year-old daughter fell in love with the awe-inspiring structure and its home city. Soon after, Bedell determined to capture the moments spent with his family in Paris by creating a jewelry line inspired by its grandest architectural landmark.
Businessman-turned-hopeless romantic, Bedell's necklaces and earrings embrace "geometric shapes combined with smooth, flowing latticework," just like their inspiration. Ever the clever businessman, he chose the name Korbella after a Bedell family name from Italy, meaning "beautiful heart." This is fitting as the company caters to those whose hearts "dream in color, whispering… of romantic possibilities."
The jewelry is made of either sterling silver, 18k gold vermeil or solid 18K gold. The part that is unique to Korbella is a very small polished round or square "diamond" included in each piece, which is an actual portion of the famed Iron Lady's original, condemned staircase. Now, if you can't afford to take your significant other to Paris, you can buy them a piece of it instead, for between $190 and $1,170.
Businessman-turned-hopeless romantic, Bedell's necklaces and earrings embrace "geometric shapes combined with smooth, flowing latticework," just like their inspiration. Ever the clever businessman, he chose the name Korbella after a Bedell family name from Italy, meaning "beautiful heart." This is fitting as the company caters to those whose hearts "dream in color, whispering… of romantic possibilities."