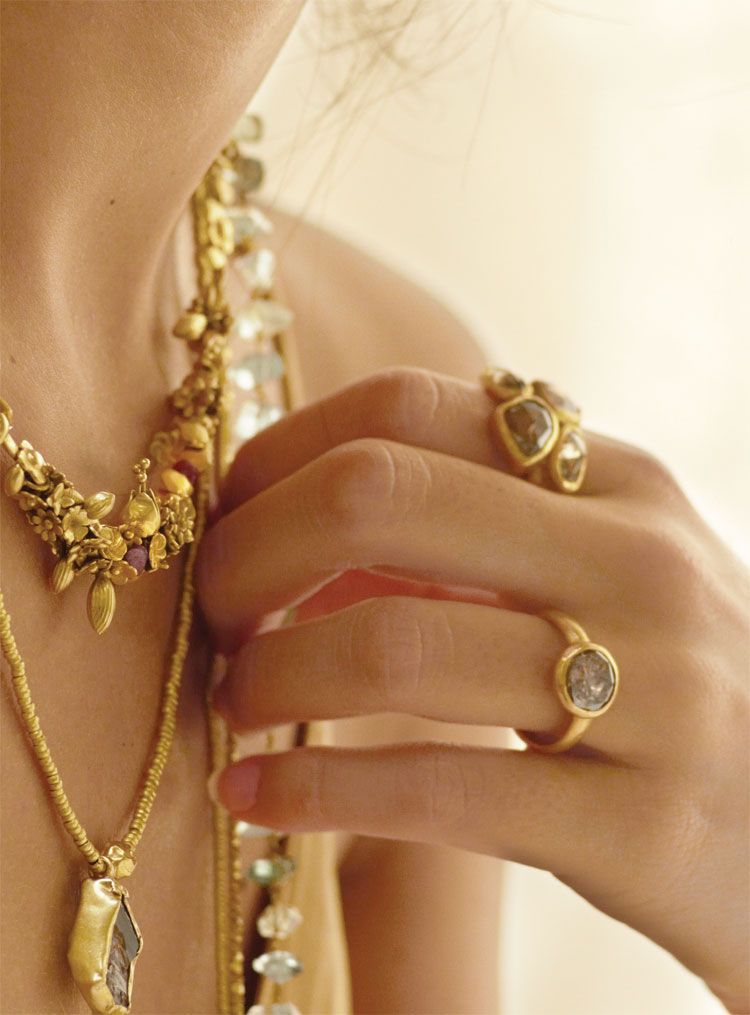 Pieces from
luxury jewelry
brand Pippa Small Jewellery may be stunning to look at, but it's the designer's motivation behind her brand that makes them even more inspiring and beautiful. Looking at the pieces, one is at once in awe of the sheer quality, size, and design of the stones— all of which are semi-precious and set in 14-22k gold. But when learning that these gorgeous gems are all ethically produced with fair-trade practices, it makes us commend the designer even more.
Born in a French-speaking province of Canada and raised in England, it's safe to say that Pippa Small got the travel bug at an early age. Always attracted to gems, shells and minerals, Pippa began collecting trinkets in her childhood that reminded her of certain people, places, or times. She strung these items and wore them to allow them to become recalled memories— she was essentially wearing her own story. It was her insatiable desire to learn about cultures and other lifestyles that led her to study anthropology. Her knack for jewelry came back into practice again when she needed a way to fund her education— and that's when she began to catch the attention of brands like Gucci, Nicole Farhi and Chloe, all of whom she has collaborated with. From there, it's no surprise that she's become a favorite of celebrities like Rachel McAdams, Reese Witherspoon, and Uma Thurman.
Small has been able to fuse her loves of jewelry and anthropology by traveling to the furthest corners of the earth to take part in courageous humanitarian efforts. To date she's been to Southeast Asia, Afghanistan, Africa and South America to revitalize native talent and lift those countries' handcrafters out of poverty. It's these artisans that make her jewelry in places as remote as Kabul and the slums of Nairobi — where Smalls herself resides in order to teach these people her craft. She sells jewelry sourced and made in Afghanistan, India, Bolivia, Panama and Kenya and all of the gold she uses is from the world's only fair-trade gold mine.