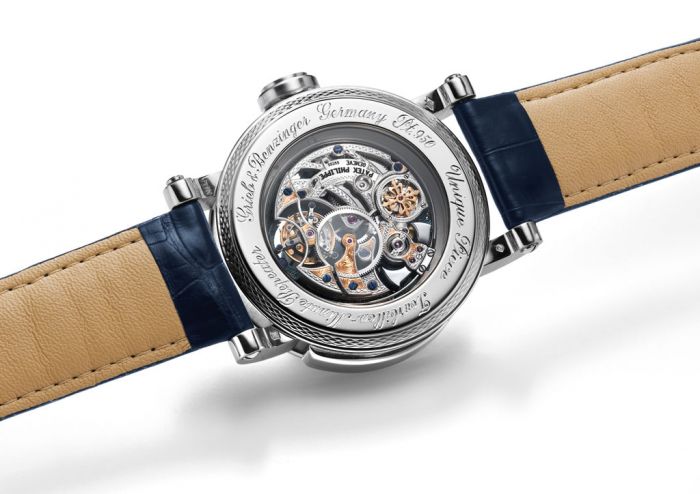 Photo Courtesy of Grieb & Benzinger
For centuries the watch has been a luxurious wardrobe staple; a subtle way to showcase your personal style and exquisite taste, all the while combining function with fashion. So when did
luxury watches
become so ostentatious? Just because it may be embellished with a ridiculous amount of diamonds and may practically be the size of a small child doesn't necessarily make it a quality piece. As with so much in life, true beauty lies on the inside, and The Blue Whirlwind collection by Grieb & Benzinger simply drives this point home.
In the past, watches were made to be passed down as family heirlooms, therefore, lasting throughout the years. Somewhere in the past century, however, the beauty of this tradition was lost to trendy pieces that end up spending most of their time in the jewelry box at home. Grieb & Benzinger have breathed life back into the timepiece by creating these classic and superior pieces of work.
Each watch in the collection has a solid 43 mm diameter platinum watchcase and is proudly powered by a visible tourbillon movement by luxury watchmaker Patek Philippe. This incredible movement perfectly displays the intricate workmanship that comes along with the guilloché process (a decorative engraving technique that involves a very precise, intricate, repetitive pattern or design to be mechanically engraved into an underlying material). The base plate of this magnificent piece of machinery is skeletonized (the practice of removing excess metal from the movement's plates and bridges so you can properly admire the inner workings while maintaining the integrity of the product in the process,) has a surface that that is beautifully engraved and a transparent case back resulting in a three-dimensional view into the workings of this stunning movement.
With each piece, the dedication and utter skill involved is apparent, justifying its $850,000 price point. Both Hermann Grieb and Jochen Benzinger have an obvious love and enthusiasm for their craft, the end result being an irreplaceable and beautifully constructed timepiece.