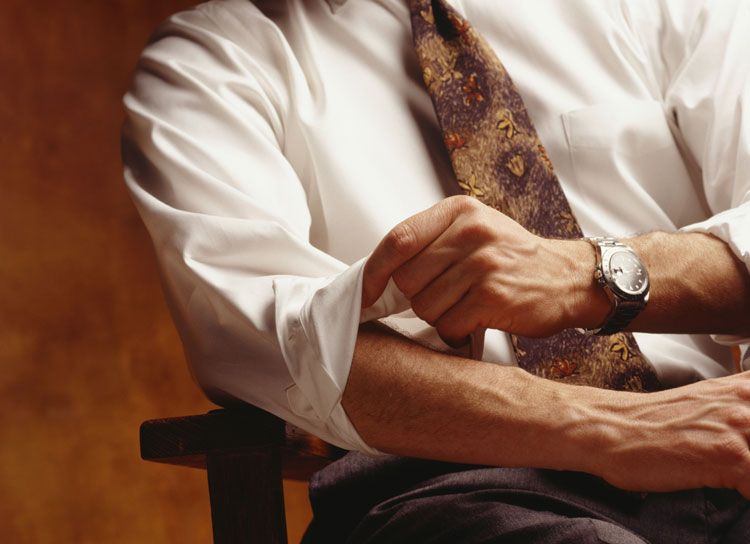 Photo Courtesy of Photodisc/Thinkstock
Just as family matriarchs sometimes pass down treasured items like engagement rings and other family jewels, one piece that men like to pass down is a high quality timepiece. Passing down a
luxury watch
is an effective and affectionate way to be remembered, but choosing the right watch can be a process. While there are several factors to consider, remember that this is what makes choosing a legacy piece sentimental and special. Below, I've put together some tips to help you choose a great heirloom watch that will be treasured for years to come.
Do Your Research
This may sound like an obvious first step, but you'd be surprised at the number of people who've been snubbed and receive a "knockoff" after putting down a huge chunk of change for a watch they thought was authentic. With today's technology, dishonest vendors and dealers are capable of making and selling fake replicas of collectible pieces. Just take a stroll through the streets of New York City and you'll see knockoff versions of handbags, shoes, jewelry, and watches that sport faux labels from top luxury brands. This is why it's important to research not only potential watches, but potential sellers and dealers.
If you're looking to purchase an item that you want to be passed down over generations and even centuries, that probably means you're willing to make a lofty investment— which is all the more reason to take the time to scan the Internet for the names of trustworthy sources. You might even join a few watch forums online— there are some truly devoted collectors out there who could lend a great hand by suggesting sellers and dealers. Look for the timepiece's original box and papers to ensure you're getting an authentic watch— even online vendors will specify when these items are included with a product.
Photo Courtesy of Zoonar/Thinkstock
Opt for a Timeless Look
While a modern-looking, high-tech watch may seem like a good choice for an inheritance piece at first because of its newer parts, remember that anything in fashion that's too trendy will eventually go out of style. Opt instead for a classic, timeless look— antique pieces are great options, and are usually of higher value.
Photo Courtesy of iStockphoto/Thinkstock
It would be a smart move, no matter what kind of model you choose, to look for replacement movement parts that you can purchase now and save for the future for when the watch may need repairing or updating. The parts may be harder to find in the future, and by finding them ahead of time, you could be doing the watch's heir(s) a huge favor! It will also ensure the chosen timepiece will remain not only useful, but meaningful in the future— you wouldn't want a sentimental investment piece to get thrown to the wayside just because it doesn't function anymore.
Add a Personal Touch
Some avid watch collectors believe that customizing or personalizing a watch will decrease its value, but let's be honest: the only time this should matter is if you wish to eventually sell your watch for more money than you originally bought it for. This factor shouldn't be an issue with a watch that is meant to stay within the family, so in this case, adding personal touches to the timepiece will give it a treasure aspect and make it more meaningful to those who inherit it.
Photo Courtesy of iStockphoto/Thinkstock
Case back engravements like your name, the date you purchased the watch, and maybe even your wife's name would give it a hugely sentimental element over years to come. Additionally, a precious metal case would not only customize the watch, but it would prevent corrosion and help keep it in good, functional shape. And perhaps you'll choose to have a custom wooden box made for your new heirloom that would include room for the watch, its original papers and other documents, and additional parts.
No matter what watch you choose and whether you decide to add any customizations, one way to ensure the timepiece becomes a treasure to its inheritors and other family members is to wear it for special occasions that it will be remembered for later. Encourage the intended recipient by letting him or her know that it will be passed down to them one day— this should help resonate good memories and sentimental value with the watch. And if all goes as planned, the timepiece will be passed down for generations to come and won't be bargained for its future value.
Photo Courtesy of Comstock/Thinkstock