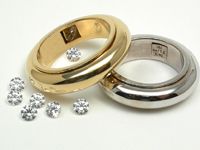 Designer Jewelry:
Sitting down with a famous friend for dinner one night, New York jewelry designer
John Reinhold
mentioned a problem he was having.
"I wanted to create a ring where you would hear a sound and would be able to see the loose stones," recalled Reinhold earlier this fall in his Park Ave. apartment.  He already had the concept for a hollow ring in which loose diamonds could freely roam. The problem was that if the diamonds touched each other, they could chip.
The year was 1991, and Reinhold and his friend, the widely celebrated designer Marc Jacobs, brainstormed their way through dinner at Café Luxembourg, sketching out a solution on the paper tablecloth.
The result is the Reinhold Rattle Ring, a patented design which has become like a secret handshake among a sophisticated group of design enthusiasts.
Each 18 kt. gold ring is a two-piece tubular band with eight interior compartments, each of which can hold a .25 carat diamond. When the inner part of the ring is rotated against the outer part, a window slides over one of the little compartments, allowing a diamond to tumble out.
"A lay person never gets to do this because they can't take a diamond out of its setting," Reinhold says, playing with a tiny pile of glittering stones that he has released from a ring.
The wearer also has the rare experience of feeling the movement of the diamonds and hearing their delicate music.
The rings can be purchased with two, four, six or eight diamonds. "The more diamonds you have, the more music you hear and the more movement you feel. You can start with a concerto and finish with a symphony."
Reinhold only uses round brilliants, that are D-E-F in colour and VVS1 or 2 in clarity. The Rattle Ring can also be ordered in coloured gems from amethyst to pink tourmaline, but not emeralds because they are too soft.
Kate Moss had one made for then-beau Johnny Depp with a black pearl and diamonds. Naomi Campbell has the rattle ring bracelet, which holds larger stones, "so the sound is incredible," Reinhold says.
He admits that some don't understand the concept of deliberately obscuring a symbol of wealth.
"People thought I was nuts, hiding a diamond. But for some people, it's about discretion. A lot of men love them because this way they can have the diamonds, without the Las Vegas effect. For me, just knowing the diamonds are there is enough."
By Bernadette Morra
Editor-in-chief
FirstwaterNews.com