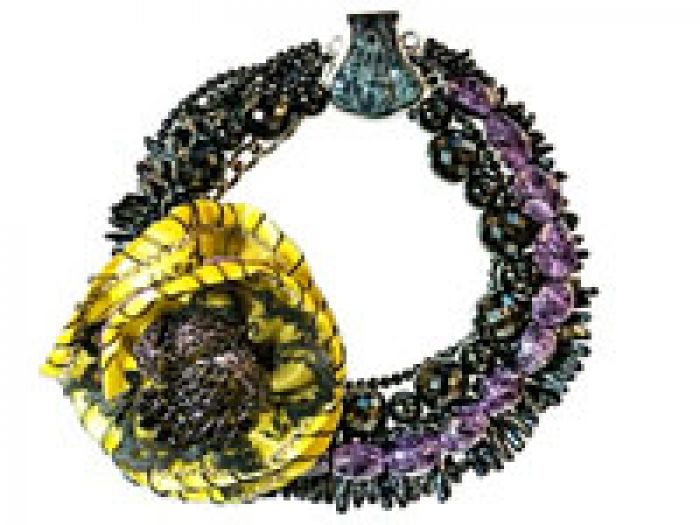 Fine Jewelry:
Marlaina Stone's pieces are unique works of art, as individual as the women they are designed for.
The Marlaina Stone artesian collection consists of one of a kind necklaces, bracelets, cuffs, and rings. Each piece has its own name and backstory.
One of our favorite designs,"Colette," is a layered necklace, with hand-knotted on white cord with quartz, freshwater pearls, moonstone and geode stones. Although the piece is white, it evokes individuality through its unique design and distinct personality.
Composed of precious stones, exotic crystals, the Marlaina Stone Jewelry Collection is adorned with vintage treasures from around the globe and are strung together by artists from all over the map.
Marlaina Stone entered into the fashion world at the tender age of 16 and has since expanded her fashion knowledge into the business world, becoming a solid name in the industry. Partnering with metal artist Ashley Heidrich, the creative duo has teamed up with artists from around the world to help execute their vision that fashion should make you think, as well as make you look good.
To help people think and feel, the collection uses rare stones, exotic crystals and funky beads to evoke emotions in the concrete pieces of artwear. Each piece with its special meaning carries its own look, just like the signature hand-cut sterling silver and hand-stamped leather signature that makes Marlaina a part of each piece.
The line follows Marlaina's credo, "Call it a necklace, call it a bracelet, call it a ring, but whatever you do, don't call it jewelry," reflecting her fearless ambition and passion for the creative.
For LxM Carly Zinderman
Colette
Rebecca
Marie
Athena
Raine
Cydney
Felicity
Madisa