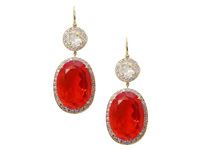 Fine Jewelry:
The phrase "they don't make 'em like they used to" might apply to some things, but not jewelry.
Technology has improved radically in the last few decades, allowing designers to achieve a fineness and crispness of design that simply wouldn't have been possible 100 years ago.
Take, for instance, the Art Deco-inspired earrings created by New York's Stephen Russell. The black onyx, diamond and aquamarine drops have the vivid colour contrast and graphic lines of the Art Deco period.
However, today's powerful microscopes mean the earrings could be crafted with less visible metal than they would have nearly a century ago. And advances in high speed diamond tip drills now allow for such accuracy that minute holes could be drilled into the briolettes and then hidden under a diamond floret.
"Things are built so much better today," marvels Russell Zelenetz, who co-owns the Madison Ave. shop with Stephen Feuerman. But that doesn't mean the pair have forsaken vintage jewelry. In fact, Zelenetz and Feuerman have amassed a collection of Victorian, Edwardian, Art Deco and Retro jewels that has been called one of the best edited in the world.
Their pieces can be found in art books, luxury magazines and international exhibitions. A rock crystal and diamond cuff by Suzanne Belperron and once owned by Diana Vreelend is among the Stephen Russell treasures on loan to Les Art Decoratifs in Paris for an Art Deco exhibit running until July 12, 2009. The two also work closely with clients to help them build and manage their collections.
Zelenetz and Feuerman complement their vintage offerings with contemporary works that merge tradition and innovation. Spring designs include dramatic 20-plus carat fire opal, black opal and tanzanite earrings.
But are New Yorkers still wearing their gems during these economically-sensitive times?
"Absolutely," Zelenetz ensures. "They are not necessarily buying that diamond riviere, but they are wearing incredible rock crystal rings from the '30s or beautiful crystal and diamond cuffs. People are putting more emphasis on tasteful luxury vs. decadent luxury."
Bernadette Morra
JustLuxe contributor
Editor-in-chief
FirstwaterNews.com