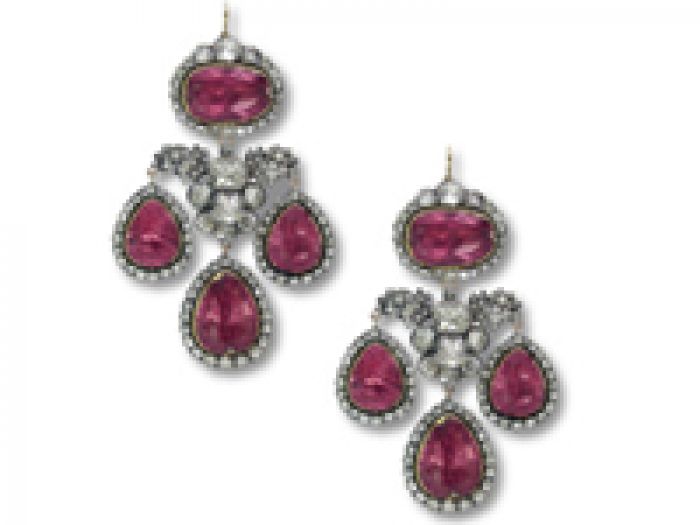 Fine Jewelry:
Several years ago, while on vacation in Europe, my husband and I were invited to visit a castle that is no longer in use.
The princess who grew up there is the friend of a friend and she graciously agreed to show us around. We were out in the country, though I won't say which one, and staying at a Relais & Chateau next door. I fretted about what to wear and scrambled to find a hostess gift - was I thinking she would greet me in a tiara and gown?
The princess couldn't have been more real, or more charming. We met her at the castle gates and she urged us into her American-made van for the lengthy ride to the main entrance.
The worn upholstery inside the vehicle was the first clue that the family's circumstances had changed. For the next two hours, the princess toured us through the portrait-lined hallways, the regal reception hall (complete with a throne!) and her father's study with its massive mahogany desk, hunting rifles and stuffed deer heads.
We marveled at the antiques and the art. But when the princess showed us where she had slept as a girl, it became clear that no matter how stately the surroundings, this was not a museum. This was her home. And though her family can no longer keep such a vast property as a functioning residence, I got the sense that sharing it with us seemed to keep it alive.
I thought of the princess when I received a notice from New York vintage jewelry dealers Stephen Russell that a pair of 18th century silver, yellow gold, spinel and diamond Girandole earrings had come up for sale.
"Until recently, these magnificent earrings were privately held by a royal family and passed down from generation to generation," the note read. "The earrings were commissioned in the late 18th century and composed of 8 spinels and 254 old European cut diamonds, set in silver and yellow gold. The spinels were originally rare Indian spinel beads from the 16th century and were re-cut for this pair of earrings. They are an exceptional example of rare vintage jewels and a fabulous addition to our collection."
The earrings, though, are not just royal relics. They were someone's jewels, perhaps even coming from the family of the princess I had met on holiday. One thing I do feel sure of is that like the castle no longer in use, whoever once wore those earrings would want them to live on.
Bernadette Morra
Justluxe Contributor
Editor-in-chief,
FirstwaterNews.com