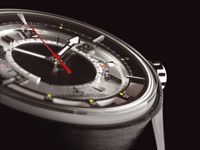 Luxury Watches:
The three-year partnership between two leaders in precision and top-tier luxury has just been refreshed. To commemorate the 50th anniversary of Aston Martin's remarkable victory in the Le Mans 24-hour endurance race, Jaeger-LeCoultre has created two limited edition timepieces to celebrate the event.
The renowned British carmaker set three LOLA prototype cars to the starting line of the Le Mans Prototypes (LMPI) category while Jaeger-LeCoultre introduced two limited editions of the AMVOX2 Chronograph Racing model; the only chronograph operating without push pieces, thanks to its revolutionary patented vertical-trigger system.
The limited edition timepieces feature distinguished carbon fiber chronograph counters evoking several structural elements of the LOLA Aston Martin prototypes, such as the monohull chassis, brake discs and pads capable of withstanding temperatures of over 300 degrees Celsius.
The power of the V12 engine powering Aston Martin's LOLA cars, equipped with a six-speed sequential control transverse gearbox, is matched by the 751E chronograph movement in the AMVOX2. This movement sets itself apart from the rest with its innovative lever design that transmits pressure on the watch glass to the movement in order to control the functions of the vertical-trigger chronograph.
With the invention of this movement, Jaeger-LeCoultre is revolutionizing the watch-making world. In the absence of traditional push pieces is the ingenious mechanism allowing the wearer to start, stop and reset the chronograph simply by pressing on the watch's sapphire crystal.
Inside the case is the ground-breaking vertical-trigger system, utilizing a ball-joint mechanism that allow both the case and bezel to pivot away from the shoulders of the watch, activating a series of levers that transmits the impulses that control the chronograph. By pushing the sapphire at 12 o'clock, the chronograph function is triggered and disengaged, while applying pressure at 6 o'clock will reset it.
All Jaeger-LeCoultre timepieces boast the world-renowned qualities of reliability and sturdiness the brand is known for and the AMVOX2 is no exception. Duly certified by the famous 1000 Hours control, all Jaeger-LeCoultre watches are subjected to stringent demands. The rigorous testing and unparalleled design of the timepieces elevates Jaeger-LeCoultre to their esteemed position in the industry.
The unmistakable competitive spirit of the brands has given both the LOLA and the AMVOX2 airs of determination while still epitomizing luxury. Just as the brands themselves are exclusive, the designs will be, too. The AMVOX2 will be released in two limited editions of just 100 each; one with a black dial and white luminescent numerals and the other with a white dial and black luminescent numerals.
For
JustLuxe
Kate Prihoda