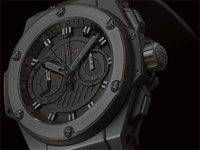 Luxury Watches:
Although the world of haute horology is generally stemmed from tradition, history and classic appeal, one can't ignore the influx of creative design, mechanics, and aesthetics that are surfacing on the market today. One particular trend that has charmed its way into the public eye, is the "Black Out" look. These predominantly black designs give a sense of mystique and intrigue. Whether the pieces are coated in ceramic, PVD, or carbon, these styles give the conventional aesthetics that encapsulate the watch world, while incorporating a contemporary finesse.
Hublot Big Bang - King Power
This complex dial (pictured above), with its intricate layers, houses a split-second foudroyante chronograph movement.
Limited Edition 500 pieces
Movement: Self-winding mechanical split-seconds foudroyante chronograph,
Case Material: PVD-Coated Titanium, Black micro blasted Ceramic
Case Dimension: 48mm
The UR-103T by Urwerk
Always testing the boundaries of creativity, Urwerk has created the "Tarantula" with a steel case that has been treated with AlTiN - Aluminum Titanium Nitrade. Only for the geniuses who can learn how to read it.
Price: Approx $65,000
Movement: Manual, 43 hour power reserve
Case Material: Stainless steel treated with Altin
Case Dimension: 50mm
Panerai Radiomir Black Seal
As part of their historic collection, this Radiomir is coated in ceramic, so you don't have to worry about scratching..
Price: $8,000.00
Movement: Manual, Sub Sec, 56 hr Power Reserve
Case Material: Ceramic
Case Dimension: 45 mm
Corum Black Hull 48
This stealthy addition to the Admirals Cup parallels the navigational world with its 12-sided bezel and strong tight lines.
Price: $8,000.00 , limited to 1000 pieces
Movement: Chronograph, Date, Sub Seconds
Case Material: Titanium PVD
Case Dimension: 48 mm
Bell & Ross BR 03-92
With all of its "blackened elements" the Bell and Ross Phantom embodies all of the essential elements that define the brand: readability, performance, precision, and water resistance.
Price: $4,000.00
Movements: Date, Sweep Second
Case Material: PVD Stainless Steel, stainless steel
Case Dimension: 42 mm
Corum Ti Bridge
This is for the collector who values and understands the Corum Golden Bridge, but requires a more modern and less formal timepiece for their collection.
Price: $14,000.00
Movement: Manual
Functions:72 hours Power Reserve, Skeletal Dial
Case Material: Titanium PVD
Case Dimension: 42.5 x 41.5 mm
Banford and Sons
Taking the art of bespoke and implementing the idea into watches, has truly captivated the attention of connoisseurs, including myself. Each model is available with a number of personalized elements including, military grade PVD, dial color options, and engraving. You have to admit a Black Rolex Milgauss is inimitable... Prices Vary.
For
JustLuxe
Danika Quinones
Hublot Big Bang King Power
Urwerk UR 103T
Panerai Radiomir Black Seal
Corum Black Hull 48
Bell and Ross BR 03 92
Corum Ti Bridge
Banford and Sons