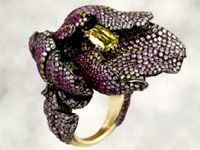 Online Jewelry Sales:
Elite luxury jewelry house Faberge is preparing to enter the world of web retail with a special collection of pieces, some of which are worth up to $7 million.
Revived Faberge plans to enter the luxury online market, despite the current economic downturn and eventually combat other luxury retailers like Bulgari, Tiffany, and Cartier.
The Faberge Web site will showcase its signature jewels and gems to wealthy customers, but final transactions will be done with private showings.
"We decided to be bold. We saw this as a massive opportunity," Chief Executive Mark Dunhill said at a launch on Wednesday.

The plan is to lure in wealthy customers, who will then be interested enough to make a personal purchase. The decision was based on research that showed that 95 percent of millionaires made their last purchase on the web.

"If you are thinking of spending $1 million for a bracelet, why not have the designer come out to you and show it to you on your yacht?" Dunhill said.

The move to the web is strategic, as it will allow the company to put out a minimum investment, with a maximum return. In addition, the company will not have to pay the high price of selling at numerous luxury boutiques and will instead have only a small exclusive store in Geneva.

According to Dunhill, former president of Alfred Dunhill, the leather and accessories brand of Swiss luxury goods maker Richemont, Faberge is basically pioneering a business model for elite brands. While there may be a slump in the luxury market, many high-end names are still paying a premium to be able to sell to their exclusive customers. Like Louis Vuitton, which is spending $25 million to open a new shop in London.




The new venture will take time to become profitable, according to Dunhill. He explains, "This is a very elite business seeking to attract a devoted base of connoisseurs... realistically a business like this takes time to grow."

The current incarnation is owned by about 50 percent by Pallinghurst Resources, a mining investment group that bought the name from Unilever in 2007. U.S. private equity group Midstream & Resources has a 20 percent stake and South African bank Investec owns around 10 percent.

Faberge was originally founded by Gustav Faberge in 1842, a jeweler who created elaborate jewel-encrusted eggs for the Russian Royal Family.

Jewelry designer Frederic Zaavy, who has his own workshop and has been selling privately for over a decade, crafted the initial collection of 100 items at his Paris studio. Dunhill says that Faberge may also craft the first egg since the Faberge family was scattered by the Russian Revolution.

Zaavy uses hundreds or thousands of tiny gems on each piece to create mosaic effects on rings, brooches, earrings and necklaces. This initial offering will have a price range of $40,000 to $7 million. Future collections may start at prices of $15,000, with other luxury items added as well.

For JustLuxe Carly Zinderman