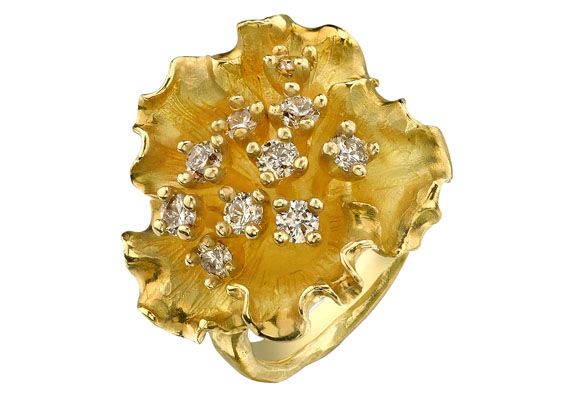 Fine Jewelry: Is C.Greene the newest "it" designer in jewelry circles? A bevy of Hollywood A-list celebrities have been spotted lately on red carpets and at soirees wearing pieces from the
C.Greene collection
of fine jewelry.
Check out the gorgeous C.Greene Spring/Summer 2010 collection here!
Eva Mendes, Reese Witherspoon, Olivia Wilde, Penelope Cruz, Cameron Diaz, Anne Hathaway, Megan Fox, and Demi Moore are but a few of the femme vitals on the scene being seen wearing the floral-inspired designs that are handcrafted in 18k gold with precious and semi-precious stones.
The origin of Christine Greene's eponymous collection line stems from her passion for island life, nature, and flowers, as she spent most of her childhood in French Polynesia and Micronesia.
Officially launched in 2006, Ms. Greene's fine jewelry collection is blossoming and heading toward full bloom. The official Web site is still up-and-coming, but the line is available now at
BrokenEnglish.com