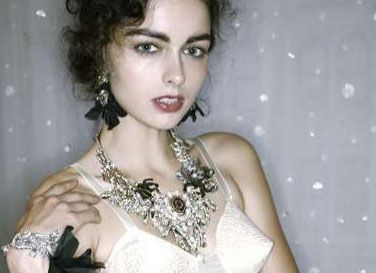 Jewelry:
Anyone who has taken a liking to spring's must have statement necklaces (and who hasn't?!) should pay very close attention rising star
Ranjana Khan
. Not content to just be the wife of famed designed Naeem Khan, in 2008, Ranjana launched her own line of jewelry and accessories and her gems can now be found in top retailers around the world.
Growing up in India, Ranjana gained vast knowledge of embroideries and lent this wisdom to celebrated designers including Alber Elbaz and the late, great Alexander McQueen. Ranjan pushes this aesthetic even further with her line, combining materials like leather with tulle and ribbons with grommets making every piece a perfect study in balanced elegance.
There is no faster way to transform a look than with a to-die-for statement necklace. Throw one on with jeans, a little black dress, even a bathing suit- it goes with everything! The first time I saw Ranjana's pieces in Neimans, I nearly lost my mind and proceeded to pull an obscene amount for an upcoming bridal story I was styling and guess what, they even go with wedding dresses! Okay ladies, looks like there is no excuse for a naked neck this spring, happy shopping.