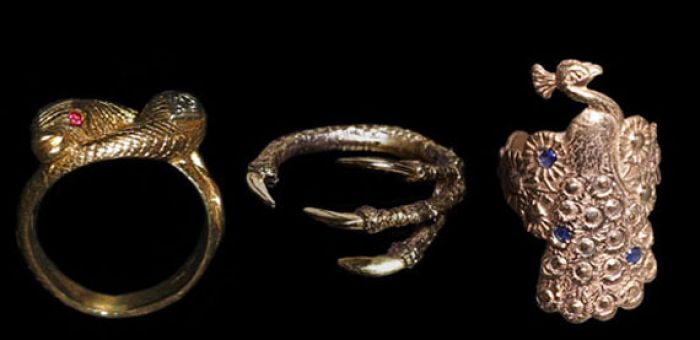 Jewelry & Watches
Pamela Love
is best known for her "savagely sexy"
jewelry
line and her new Fall collection is no exception.
Filled with the bird skulls, talons, daggers and unapologetically raw symbols the Fall collection carries on Pamela's mainstays, mixing in with inspiration from a trip to Mexico.
Inspired by south of the border Day of the Dead celebration, Pamela's existing death motifs are amped up by braided rope rings, sacred heart pendants, and skull-stamped cuffs in copper, bronze, and antique silver plate. All the pieces are based on based on Papel Picado, Mexican folk art of intricately cut tissue paper flags.
The fashionable jewelry designer has collaborated on a wide range of products, including the hit series True Blood. You know that Eagle Talon necklace worn by the character Eric? It's Pamela Love's and its available on the official HBO website. Pamela Love's work has also appeared on runways for Alice+Olivia, Zac Posen and others and is regularly featured in the pages of fashion publications like Vogue and Marie Claire.
The fall collection isn't available until July, but you can check out Pamela Love's mainstay collections for men and women before that
online
.