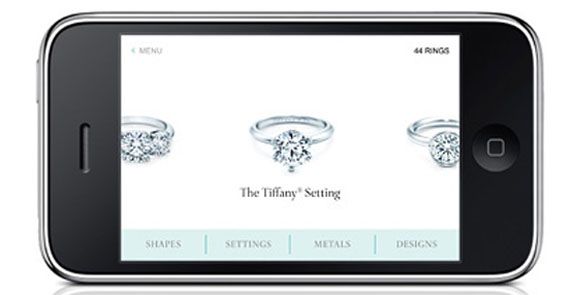 Jewelry & Watches:
Luxury shopping is going mobile as The Tiffany and Co. has announced the introduction of an iPhone app that allows shoppers to browse
diamond
engagement rings.
The world's leading provider of diamond engagement rings,
Tiffany
is joining the modern technology age by allowing users to browse through a variety of diamonds and engagement rings to select the style that is right for them.
The app even has a
Ring Finder
the first of its kind. The user can place an existing ring on the screen to align it with different size circles to find the correct ring size. The app also offers other user-friendly benefits, like the ability to browse by shape, setting, metal or design. Rings are shown true-to-size and each style may be viewed with diamonds of six different carat sizes. Once you've virtually tried on a ring, you can zoom in on the details, pair the rings with wedding bands, and save or share their favorites via e-mail, Facebook® and Twitter®.