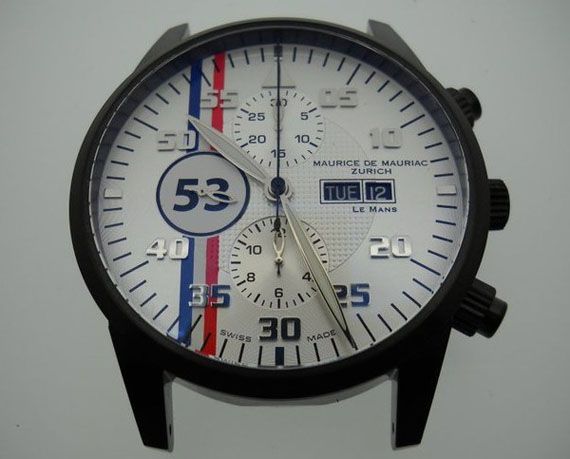 Luxury Watches:
These finely crafted Swiss-made wristwatches are by Maurice de Mauriac Zurich. While there are several acclaimed makers of timepieces in Switzerland, this is the only one that is actually branded in
Zurich
. There are no production lines or quotas at MdM, as each watch is produced on a per-order basis and made by either company founder Daniel Dreifuss or a very accomplished watchmaker.
The Le Mans wristwatch is the newest addition to the Maurice de Mauriac collection. It is an old-school classic with its throwback sporty appearance and vibrantly colorful NATO-inspired straps. It is both fun and sophisticated. The retro-inspired design captures the essence of Le Mans and its incredible history most dashingly. Like other watches of the Chronograph Modern selections, the Le Mans is expected to be available in three different case sizes.
Company founder, Daniel Dreifuss, is legendary among modern watch collectors. Before starting MdM in 1997, his expertise as a technician working on six-figure and up timepieces is a matter of record. Dreifuss feels that when compared to other prominent brands, his watches are more affordable and on a parity with any watch in the world. Styles include chronograph, automatic, and moon chronograph with modern and classic versions of each style.

How did we find out about the stupendous wristwatch collections of Maurice de Mauriac Zurich? In another article, I asked how many of you really would be interested in attending a summer camp to observe a watchmaker at work--even if it is in Switzerland wine country and conducted by Thomas Prescher.

I got my question answered the same day that article was posted in the form of an email from Mr. Daniel Dreifuss seeking more info. The man's passion for his work is inspirational. It prompted me to proofread this article thrice.