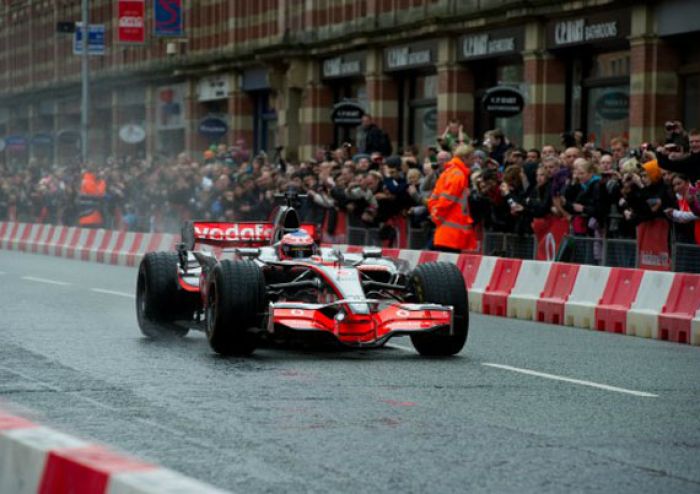 Photos Courtesy of JensonButton.com
The sound of speed rolls into South Korea this weekend when the
Formula One Grand Prix
touches down in Yeongam. This will be only the second year that the town has hosted a Grand Prix event, but it has already become a favorite stop on the circuit for many of the global superstar drivers.
The season has been full of excitement thus far, and the final stretch promises to keep pace with the action. The drivers sat down with the press for Media Day on Thursday, and expressed their anticipation for getting the race underway. The season has already been won by Red Bull Racing and their young phenom Sebastian Vettel, but the runner-up spot is still in hot contention.


Chasing that second level on the podium is team Vodafone McLaren Mercedes and their dashing duo of British charmers— Jenson Button and Lewis Hamilton. Button holds a narrow lead right now, but there are three more drivers right behind him on the leaderboard that remain within striking distance, one of which is his teammate Hamilton.

This is Button's second season with the McLaren team, having switched to the acclaimed team after becoming the World Drivers Champion in 2009. His affinity for the Korean track, the fans, and the culture may help propel him to victory and continue his successful season. He won the most recent Formula One race in Japan, so he hopes to erase the memory of a poor finish on the South Korea track last year. Regardless of how he finishes the season, Jenson Button will be back in the number four Mercedes for years to come, having recently signed a lucrative contract extension with the McLaren team.

The Korean International Circuit begins time trials and practices on Friday, with the green flag dropping at 11:00p.m. PST on Saturday evening. For live updates and timing from the races, visit Formula1.com.