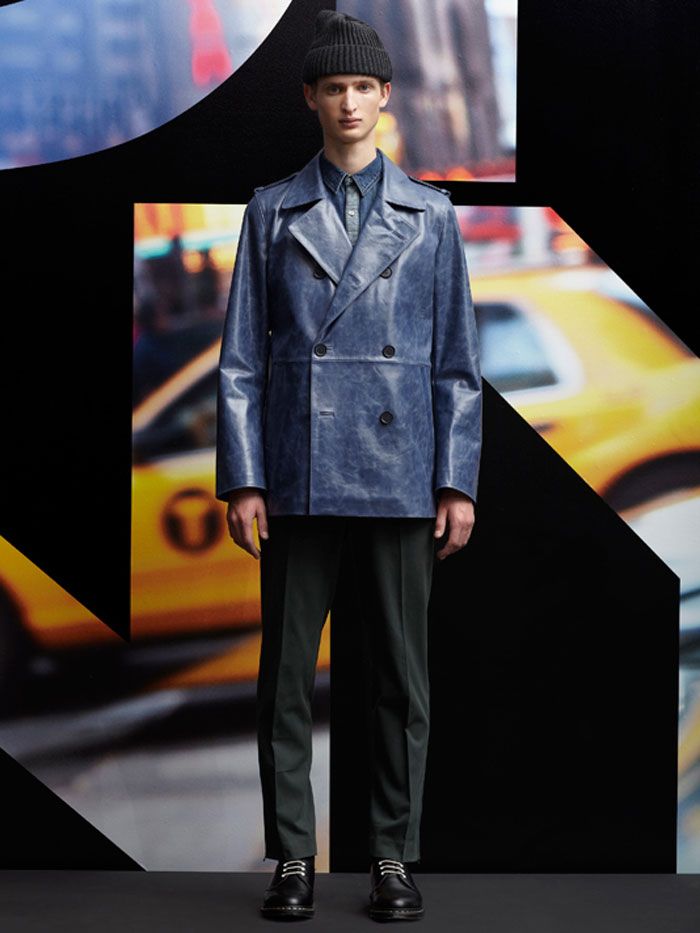 Photos Courtesy of DKNY
Boyish and modern, the
DKNY
Fall 2013 ready-to-wear collection for men remains in line with previous collections by the
luxury brand
with a youthful urban appeal that manages to uphold a structured and professional aesthetic. Living in the city gives way to many quality experiences that others covet— including access to some of the best food in the world, top-notch events practically every night of the week, and a wide array of interesting characters to converse with. But when it comes to dealing with the cold winter months, the task of maintaining a put together look that is both functional and warm is anything but easy.
Luckily, DKNY's fall collection contains a wide range of transitional pieces that can easily take men from work to play— an incredibly desirable characteristic when going home to change involves multiple subway rides or an overpriced taxi. These day-to-night pieces include slim, fitted blazers and modern trench coats paired with slender slacks.
To remain fresh and current, the collection utilizes bonded double-faced nylon for heavy jackets and embossed leather for edgy bomber pieces. Taking the youthful vibe a step further, many of the ensembles can be matched with the brand's chunky knit beanies. To reinvent the traditional suit, DKNY uses a tropical flannel print with a blend of materials like wool, nylon and spandex.
Modern men's fashion isn't as simple as buying a luxury suit and throwing it on— by today's standards, men have to be able to come up with interesting outfits that not only contain unique personality, but also have enough class to reveal their taste for quality. This DKNY fall collection is just as dapper as it is wearable and is sure to have men looking sharp and stylish no matter the destination.