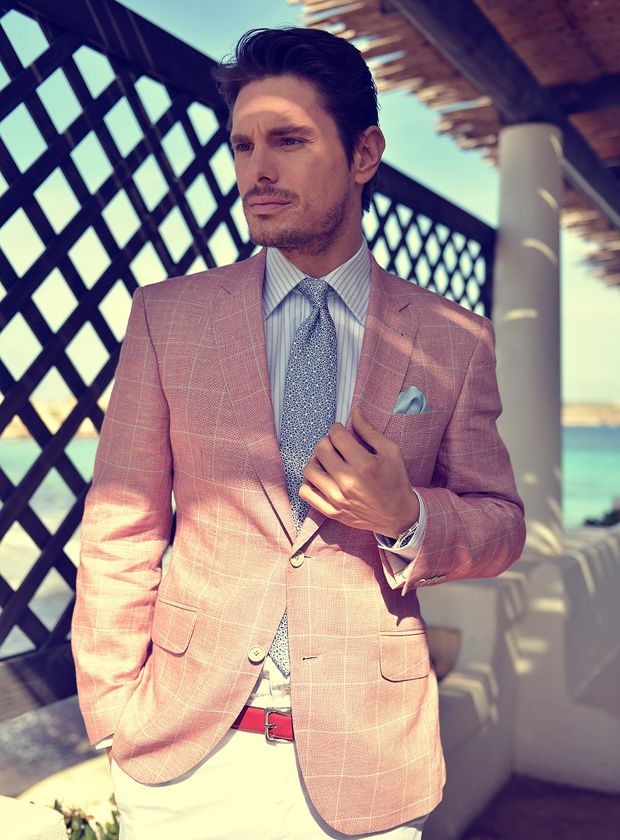 Photos Courtesy of Gagliardi
Man is an evolutionary creature who demands an equally versatile, adaptable and no-hassle wardrobe. The ubiquitous suit often dominates menswear runways that tends to fall into the "business casual" or "evening" categories, with little options for everyday wear in between. Italian menswear line
Gagliardi
intends to spice up the conception of rigid menswear with its sporty new collection that combines catwalk detailing with classic tailoring for a revamped approach to spring.
Distinctly incorporating Mediterranean heritage into the garments, Gagliardi's spring collection draws inspiration from the streets of 1950's Rome, Florence, and Milan. By using top-of-the-line fabrics, such as chambray, linens, and organic cottons, the brand blends Latin flair into modern fashion with interesting cuts, stunning shades, and varied textures. Sporty separates help take the work out of the cumbersome task of putting together an entire suit— especially as the temperatures increase.
Dividing the collection into three sections— business, weekend, and evening— the collection focuses on customization options of contemporary wardrobe staples that can be combined and styled from day to night. The line includes a diverse range of suits, jackets, shirts, shorts, trousers and accessories.
The mix and match pieces are appropriate for a range of occasions, from a business meeting to a low-key weekend. The collection's subtle detailing offers diverse options for styling with floral patterns and touches of color that embellish linings, pocket flaps and elbow patches, all of which can be customized to reflect your personal taste.
Classic bright colors and pastels incorporate this season's ever-popular color blocking trend. Soft creams, azure and royal blue add diversity, offering sharp sartorial elegance perfect for a Sicilian sunset stroll, or for simply soaking in the weekend.