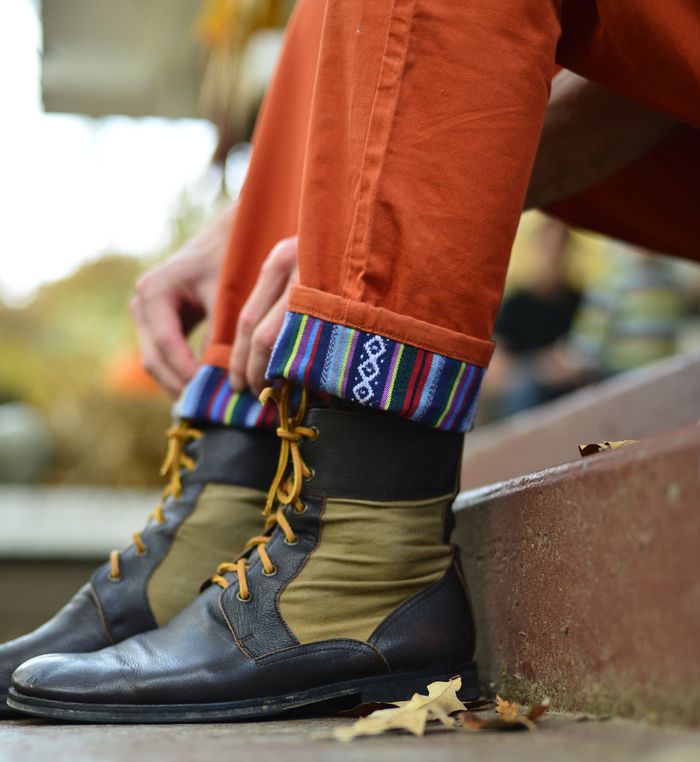 Photos Courtesy of Finn Apparel
While women are busy going through closets of casual wear, active wear, ready-to-wear in every fabric, color, style and price range imaginable, we sometimes have a tendency to forget that men's style can be a little more—limited. You've got lots of suits to choose from, way too many polos, and more slacks than you want, but when it comes to something fun, casual and let's just say it—youthful—it can be slim pickings. Maybe you're not a skater or a prepster, but trying to find an in-between that doesn't make you feel 40 might be easier said than done. To close part of the gap in men's fashion, the guys at Finn Apparel decided to get together and launch their brand.
Becoming fully funded on Kickstarter was their first obstacle, one they overcame by securing almost three times as much in funding as their original goal. (You guys really wanted new clothes didn't you?) Their blend of modern and vintage design makes for a young and clean cut look—gentlemanly form with a hipster edge. The "Guys at Finn" trio—Cody, Mike and Dustin—are all from Birmingham, Alabama, and credit their Southern upbringing to their new style. "Many wouldn't consider Alabama the source for emerging fashion designers and innovation in style, but we believe otherwise. Our inspiration and way of life translates beautifully into our products with subtle hints of character and personality that are truly unique to our nature," Dustin said.
Through trying to find their own looks and personal style they come up with the idea to simply create what they were searching for—an aesthetic of modernity and on-trend vintage. Designing cuffed trousers that show a bit of colorful fabric when hemmed, was the perfect way to find something that was straightforward, stylish and fun at the same time. Party when the cuff is up, business when the cuff is down—it's like a mullet for your pants. Other Finn items include slouchy beanies, corduroy hats and fleece sweatshirts, but honestly, you can't compete with mullet pants.
Double stitching, leather patches, and matching fabric belt loops make the trousers feel a little more pulled together; the slimmer cut flatters most body shapes and the colors are available in more demure hues and attention-grabbing brights—in case the fancy hem didn't already do it for you. As the brand begins to pick up with funding from its Kickstarter campaign keep an eye out for new colors, styles and even new additions to the line.