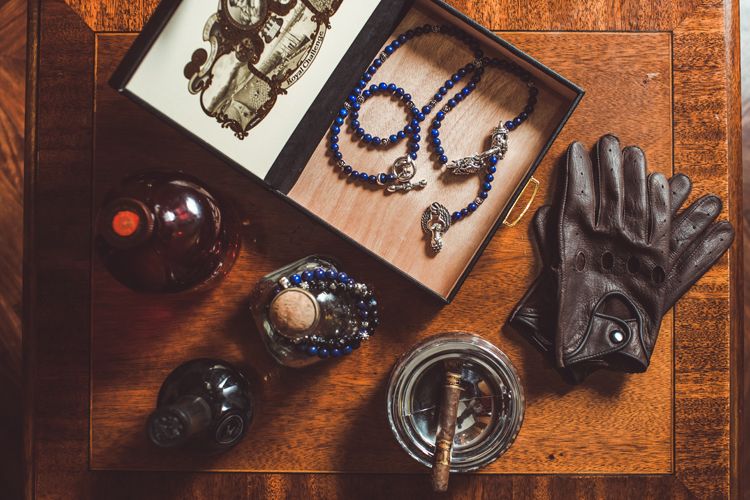 Photos Courtesy of Leo's Wisdom
Guys, we know you sort of get the short end of the stick. When it comes to jewelry, it's more about sparkle and shine then really saying something with each piece, and that's even if you can find something that speaks to your style. And we'll be honest—there aren't a lot of options out there—unless of course you're into 70's chains or extreme bling. Modern men's jewelry may be a small market, but it is growing, and we're starting to see designs that move beyond boring, solid metal rings or simple chain necklaces. A new brand that just hit our radar, Leo's Wisdom, is bringing some serious attitude and style to men's jewelry—but trust us when we say this collection is not for the faint of heart.
Founded by artist Bre Harris, Leo's Wisdom was born from his desire to have jewelry that expressed his personality, when nothing was to be found on the market. "As a man, it's been difficult finding the type of jewelry truly reflective of the style and character I feel accurately portrays the innermost me. I wanted a piece that boldly stated, ''I am Strong! I am Wise! I am Powerful!'" Harris explains. And while you might not be able to quite capture that "I am lion. Hear me roar!" moment in jewelry, we have to say he got pretty damn close. Shortly after designing his first pieces—all of which he was immediately persuaded to sell right off his back (or rather his neck)—he knew he was on to something.
And sure, while women love a guy with a little personal style (read: not in gym shorts), these pieces are seriously masculine—made for men, by men. Rosary style necklaces with lions, skulls, crosses and roses run rampant through the collection, giving it a darker edge that even your college bandmates would have been proud to rock. Created from precious metals like sterling silver, 18 kt rose and yellow gold, and gemstones including black diamonds, onyx and lapis, the collection effortlessly blends cool style with luxury detailing. Each piece is crafted by hand so no two are ever alike—so it won't look like you're wearing BFF bracelets with your best bro.
Given super badass names like Eternal Warrior and Guarded Dominion, the pieces really speak for themselves in terms of style. It's not for the timid. If your idea of fashion is an ascot and loafers, we're going to have to suggest you look elsewhere. But if you want something that shows your edge and a little of that testosterone pumping through your veins, you've come to the right place.
Leo's Wisdom is available online and priced at $175-$4,250.