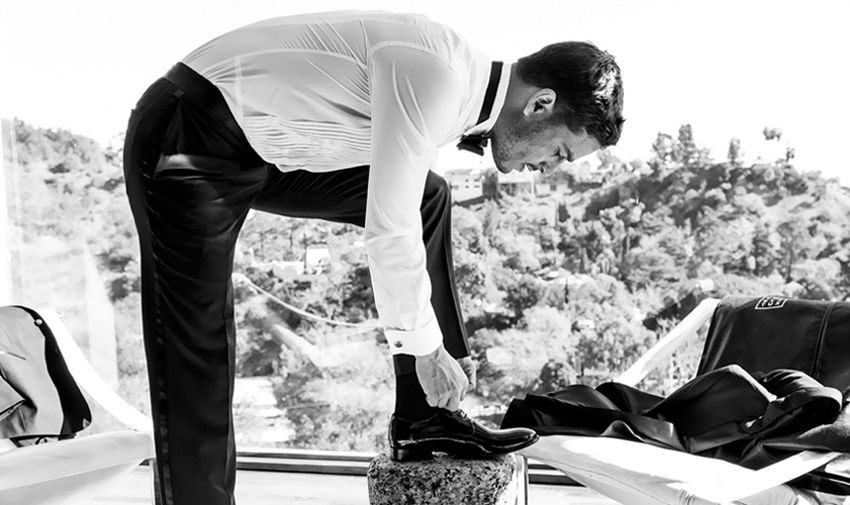 Photos Courtesy of The Black Tux
When discussing wedding parties and dress codes, we usually hear horror stories about dresses—incorrect tailoring, wrong colors, someone else snagging that couture dream gown—but it's rare that the atrocities men go through to rent a tux are ever discussed. This has likely led many women (or guys who've yet to go through rental) to believe the process is some kind of cakewalk. Commercials might even have people convinced it's a jovial time where men get together, throw on a killer tux and go out sipping scotch before heading to an event looking like a million bucks. It's not. Not even close. Lucky for us, The Black Tux has come along and completely reinvented the rental process.
Here's how it works, in a nutshell:
1. Choose either a full outfit or craft one to your (or the event's) specifications.
2. Submit measurements. The Black Tux offers resources to ensure you do this right.
3. Receive the tuxedo a full week before the event.
4. Put the tux back in the box it was shipped in and simply drop it in the mail.
Sounds easy enough, right? With such a simple way to rent tuxes, it's almost mind-boggling that it took so long for the internet to catch up to this oft rage-inducing industry.
With modern slim and classic-cut tuxes available that are delivered according to each man's measurements, grooms, best men and ushers no longer have to sift through racks of suits and tuxedos that have been in rotation since the early eighties. These duds are seriously sharp. In fact, for all intents and purposes, the outfits sent by The Black Tux are the technical and aesthetic equivalent to $1,500 getups without any of the work. And for that, The Black Tux, we just can't thank you enough.