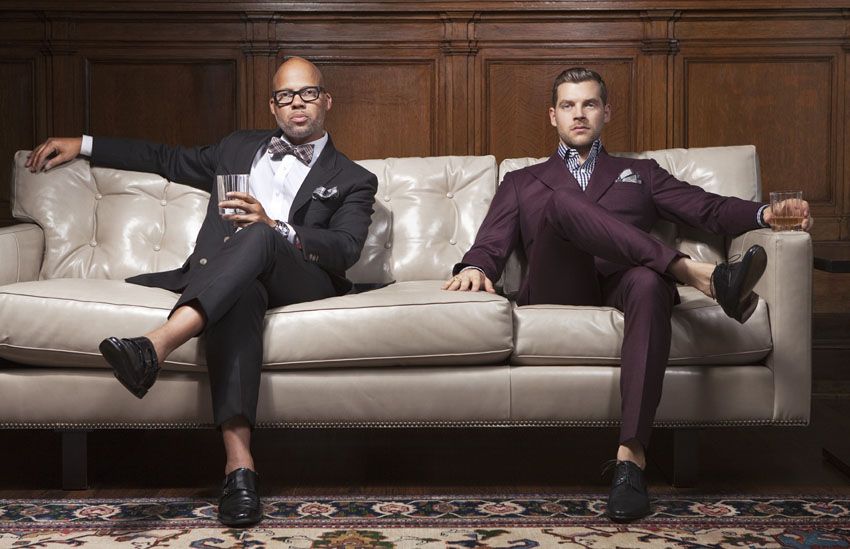 Photos Courtesy of D. Jones Clothiers
We've talked about bulletproof suits, luxury tux rentals and techy three-piece suits with enough gadgetry to make Bond envious; but simple luxury suiting doesn't always grab our attention in the same way. Most well-heeled men have a trusted tailor or a preferred designer brand and are hesitant to stray from the things that work best for them—unless of course they have cool gadgets. But a truly beautiful, custom, bench-made suit—one that lends itself more to fashion than a boardroom—can be particularly hard to find. Coming across D. Jones Clothiers we didn't see any of the bells and whistles that some of the other suits had, there was no internal air conditioning unit and bullets don't ricochet off it like Superman, but they are simple and elegant—plus they come in a range of luxurious fabrics to match literally anything in your closet.
Founder and entrepreneur of D. Jones Clothiers, Drew Jones, graduated from Texas A&M in 2006, shortly thereafter traveling to Asia where he came across custom suiting and fell in love with the quality that tailoring could afford its clients. Traveling through Asia, Europe and the Americas he was surprised to learn most brands were cutting corners, producing lower quality garments with poor construction. Believing he could return excellence to men's suiting, he began his business with the goal of creating pieces that were high fashion, high caliber, offered a precise fit and most importantly were perfect for the style and comfort of the client.
But not everything at D. Jones is about super-great tailoring—trust us when we say their choice of fabric will leave you planning a new walk-in closet. With textiles ranging from "Monet" to "Dali" (okay, that's pretty cool), the lines start with everyday fabrics that are, quite honestly, pretty dull—then run the full gamut until they reach sapphire-encrusted fabrics, cloth adorned with crushed crystals or 22 karat gold that's been spun into a fine yarn to create a gold suit. (You knew there was going to be an awesome catch somewhere.) Their Dali line features some of the finest and rarest fabrics in the world including the aforementioned crystal fabrics, cashmeres and silks, and Vicuña wool—a fabric so rare that it was once worn exclusively by Incan royalty. Pretty fancy, right?
While we have yet to try one of these dream-like suits, we're told they are as comfortable as pajamas—and we can't imagine any guy that wouldn't want to head to work in his Batman jammies were the option presented to him. Only instead of dawning flannel images of the Black Knight, you'll be rocking some of the rarest and most luxurious fabrics in the world—all in a color, pattern, and cut that reflects your personality.
D. Jones Clothiers suits are available exclusively by appointment and are priced from $1,195-$59,995+ depending on customization.