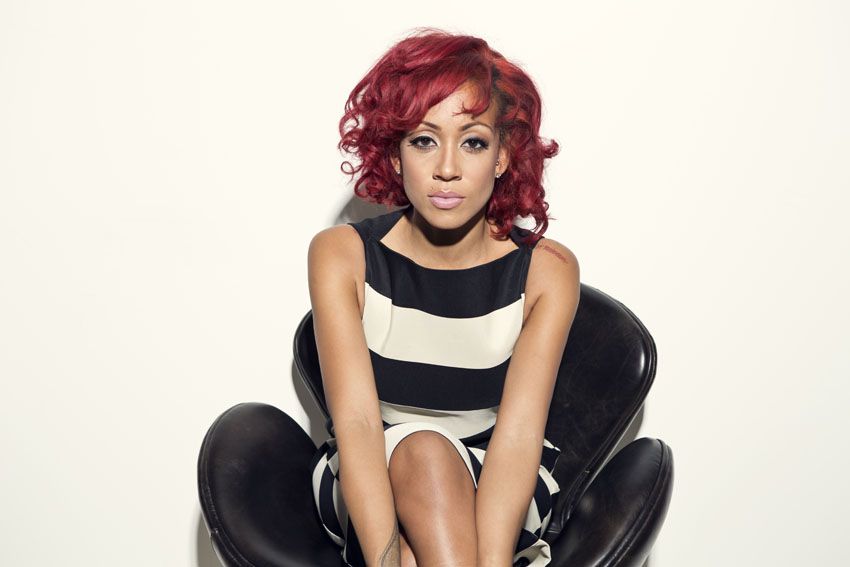 Photo Courtesy of Calyann Barnett
If you're loving some of the styles that star basketball players like Dwyane Wade, Rajon Rondo, Josh Smith and LaMarcus Aldridge are rocking, then Calyann Barnett is about to be your new favorite person. Stylist to celebrities and athletes, Barnett has taken some of the most boringly dressed men and turned them into fashion icons, styling them in everything from handsome suits to funky prints. And with a personal taste that could rival some of the most well-dressed bloggers and fashion week veterans, Barnett is making a name for herself dressing NBA players off the court.
Growing up in Miami, and starting college with a major in business administration and a minor in criminal justice, Barnett confesses knew she didn't want to pursue business, but wasn't quite sure how her love of fashion could become a career. "When I first went to school and college I had no idea what a stylist was," she explains. "I decided to move to New York and I thought I wanted to be a buyer. Anybody who doesn't know anything about fashion, they want to be something from marketing—you want to be a buyer." Starting her fashion education at the Fashion Institute of Technology she began the merchandising program and took an introductory styling class, instantly falling in love with it. "I was like 'oh! This is what I want to be!'" she laughed. "It was like being a designer except you didn't have to draw or sew."
Photo Courtesy of Calyann Barnett
Living in New York, Barnett had people all around her in the industry, but connected to her first real job at a Halloween party. At her internship she styled both sexes, but unintentionally it seems, was drawn to men's fashion. "I think when I started working it's just what I gravitated toward," she explains. "I have dressed several women, but men are a lot more fun." By the time she picked up her first NBA clients she understood men's fashion and had a clear idea of the kind of transformation that needed to take place in the professional player scene. "When I started with athletes there was a need: they had 82 games, they had a dress code, they were seen walking from the bus to their locker room, and at the end of the day they're superstars," she said. "When they weren't in suits they were in pretty urban gear; they were in what they wanted to wear, what was comfortable and in style [for them], like, oversized."
But just because a star-player has the good looks and bone structure to make him a fashion icon doesn't mean Barnett will take him on as a client. The way she selects her players is unique and strangely specific. "I'm not really sure how I do this," she starts. "I see someone playing basketball and I'm like 'hm, that person looks interestingly dressed,' and it might be their style of game on the court that makes me say 'I want to show the world this off the court!' And I think that's really what it is because I generally see them on the court and I'm like—I want to work with this person!" It may be an odd method, but whatever she's doing, it's working. Her clients have skyrocketed to the top of best-dressed lists and are looking better than ever.
Photo Courtesy of Shutterstock
When starting with each client she takes into account their personality, style and comfort level before diving into a new image. "I like to look at where they're at currently in their look, their confidence, their openness to try new things, I get that all first, it's the very first thing I get out of the way, then I usually present where I feel they should be, what they should wear, and what I think would portray them best," she explains. "From there we do a yes/no process—yes, no, meh maybe I might try it—and eliminate so I know how far I can go with them, how far I can push them and if they're willing to do something new." While her job is obviously to make them look good, allowing them to show who they are off the court is just as important to Barnett. "That's my main goal when I get a client dressed is to make sure that they're about to express themselves through their dress," she says. "That's what style and fashion is, it's an expression of yourself, and a lot of time the guys get stuck on, they think they're basketball players and that's it. And there's so much more to most of them, they're great people, they have outside hobbies, interests, so it's about being able to show the people, and their fans that wouldn't get to have a conversation with them, what they're really into and what type of person they are."
Photo Credit: Dania Graibe
But as much as she wants to show the world who each man is as a person, she also wants to make sure they look damn good doing it. Dressing some of the tallest, most fit men in the world can come with a few challenges—like their size. When dressing impeccably Barnett swears it all comes down to fit, no matter the person—basketball star or not. "It's always about fit, and I stress this to everybody. It doesn't matter how tall you are, how short you are, how fat you are, how skinny: fit, fit, fit, make sure your clothes fit you. It almost doesn't matter what you have on if it fits properly," she says. Explaining her disdain for the large, baggy basketball shorts her players are partial to, it seems the more tailored the fit, the better she thinks they look.
Photo Courtesy of Calyann Barnett
Needing to create a wardrobe for men who generally prefer to lounge around in sweatpants, Barnett has a list of some of her favorite designers she likes to pull from, and of course we wanted to know which were on the top of the list for a well-dressed man. "I love Dsquared2, love, love, love!" she exclaims. "They do a black jacket tuxedo and white shirt like no other, but then you'll see pink leather jackets or a printed pant—they're innovate while still keeping it classic." She confesses that even for her personal style she's a fan of the brand. Designers that can blend both the modern and the traditional seem to be her go-to's as she gushes about Gucci's fit for her large players and their reinterpretations of their vintage pieces. "Gucci, as long as it's not branded Gucci, love; I love, I love, I love Gucci. They were one of the first brands to start doing the larger sizes in terms of their shoe run and their clothing run," she says.
Shoes are a little harder for Barnett as most of her clients need a larger size that designers (other than Gucci) aren't willing to accommodate. For the solution she turns to Del Torro, a Miami based designer that she's been working with for years. "I work with him one-on-one to create a great custom piece; he has a great selection, but if there's something that I really want or I want to do something in a different color he can get it to me…," she gets very quiet. "Like if I really need it, like a two week turnaround, which is amazing for shoes because most shoes are anywhere from six to eight weeks. And I'm pretty sure he doesn't do that for everybody, but we have such a great relationship—maybe I shouldn't have told anybody," she laughs, and then jokes about how it will be a secret between she and I—and all our readers. Mum's the word, guys.
Photo Courtesy of Calyann Barnett
While she does stick to these classics quite often, she enjoys branching out, especially with new colors or designs that her clients are willing to play with. As a stylist she's always pushing the trends and enjoys a little fun and creativity in the outfits she puts together. "I love the floral trend; I think it's great, especially for spring, but they did floral in, like, darker colors, Gucci did it, Tom Ford did it, Dries [van Noten]," she explains. "The lost boys trend; a lot of the designers like Moschino, YSL, they did that sort of 1950's cropped pant with a denim jacket or a baseball jacket with the small lapels. I'm loving layering—tons of light layers."
But aside from up-to-the-minute trends, Barnett suggests a few closet staples that men should fill their closet with to stay in style no matter the season or year. "Every single man should have the perfect white shirt, a black blazer or tuxedo jacket and a great pair of jeans. You could wear that every single day and someone would look at you and say 'omg wow you look great'—as long as it fits properly," she adds. And we can't disagree; it's the perfect outfit to take you from day to night, especially paired with some Del Torro monkstraps.
Photo Courtesy of Calyann Barnett
As much as Barnett loves fashion, styling and playing with designers, her favorite part of the job seems to be working with the athletes. With varying personalities, each man is open to different trends, colors or cuts and she loves watching them evolve their own style. "The good thing about Dwyane—he is constantly changing because that's the type of person he is, he's fun so you'll see him play," she says. "You'll see him try on, he'll go with something loud and then something subdued, right now we're doing a very smart, contemporary look for him so you won't see the flashiness that you've seen in previous years, previous playoffs, for this playoff." So with all the sartorial growth is Wade her dream client? Almost. "I love working with Dwyane I work with Rajon Rondo, Josh Smith, I just started working with LaMarcus Aldridge, that will be a new one that we'll see for playoffs," she starts. "But if I could dress anybody in the world I would dress Prince. If you look at how Dwyane dresses—Dwyane's my Prince of basketball." But her other players are starting to grow and mix up their style in a way that Barnett loves. "In terms of Rajon it's really great with his look… just this season he was like 'You know, I'm ready to evolve' and he added more colors. So it's actually kind of a switch, between Dwyane's getting a little more subdued and Rajon is getting into wearing colors so—I may have a new Prince."
Photo Courtesy of Calyann Barnett
With clients that are literally globe trotting (not to be confused with the Globe Trotters), Barnett is a pro when it comes to styling a wardrobe that is always on the go. While we aren't as migrant as her clients, we do travel pretty often and needed to know her suggestions for keeping everything fashionable when you're dressing out of a suitcase. "Plan what you're going to wear," she suggests. "For my clients what I do is put together shots, photographs with a little label of what goes with what, bagged together and packed so that it's easy. The last thing you want when they have practice or a meeting they have to go to is having them focused on what goes with what." She admits more than once she's wasn't prepared and found herself with 10 heels and no shirts, or too many tops and only one pair of jeans—it's nice to know we aren't the only ones who've done that.
Photo Courtesy of Calyann Barnett
For her personal style Barnett is willing to play with more color, cuts and styles than even her fashion-forward clients. "I'm definitely all over the place—one day I may have on a tutu and combat boots and the next day I may be in a full business suit. I love prints, love, love, love, and I love mixing prints," she gushes. "Apparently it's an amazing talent because not anyone can do it." The eclectic dresser is one of our favorite stylists because of her pure willingness to try new things, but she does have a few favorite brands she likes to stick to. "In terms of brands there is a brand Stella Jean—it's this African print brand that I am like head over heels for. I love vintage shopping; if it's old and it's been worn I want it. I love Kenzo, Dsquared2 women's stuff, their shoes…I love, love, love, love, love them," she says. For Barnett making a statement can mean everything from subdued casual chic, to over-the-top mixed prints.
She adds that her personal sense of style is what pushes her clients to try new styles, new looks and to branch out from time to time from their uniform of basketball shorts and sweatpants. Through her work she wants to show the personality of the players and who they are outside of the game. "My lack of fear, my willingness to take a chance—I think my clients see that and it's inspiration to them," she says. "They're like 'well if this 4'11'' girl can do it, why can't I?'"