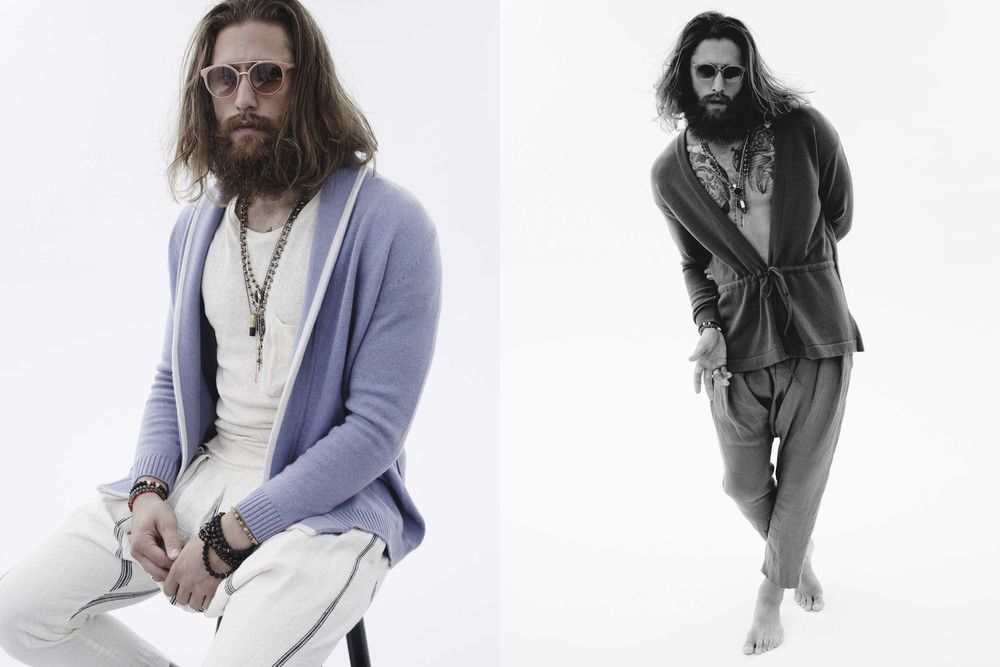 Photos Credit: Simon Cave/Palmiers du Mal
Lately it seems that men are starting to really make waves in the fashion world. Male bloggers, trendsetters and models are making a name for themselves in the industry, and with the addition of NYFW: Men's it seems guys are more stylish than ever. If you're looking to join the movement and step up your sartorial game, the threads over at Palmiers du Mal are going to be your new go-to favorites. The New York City-based label is brand new, their inaugural collection having just been released for Holiday 2015, but they already have a style-savvy, laid-back look that is all their own. Luxury sweatpants, slouchy cardigans, slim-cut shorts and drop-crotch pants are staples in their on-trend collections.
"It's completely de rigueur for men to push the fashion envelope now," says Creative Director, Shane Fonner. "To see an extremely masculine figure in a periwinkle kimono, garment-washed mauve linens, pale pink Italian smoking jackets, and purple cashmere cardigans, has somewhat of a shocking effect that philosophically engages those searching for the now."
The latest collection from Palmiers du Mal, Spring/Summer 2016, was inspired by the life of the artists, writers and musicians who travel the world in a perpetual state of wanderlust. Using luxurious Japanese textiles in connection with a sharply-tailored silhouettes creates a beautiful balance between the traditional silhouettes and the modern, casual fabrics. Collection standouts include a pair of drop-crotch linen harem pants, a cotton and Scottish cashmere blended Italian smoking jacket, and a striped, short-sleeve sweatshirt.
Palmiers du Mal is available online and at fine retailers around the world. Priced from $165 to $1,200.