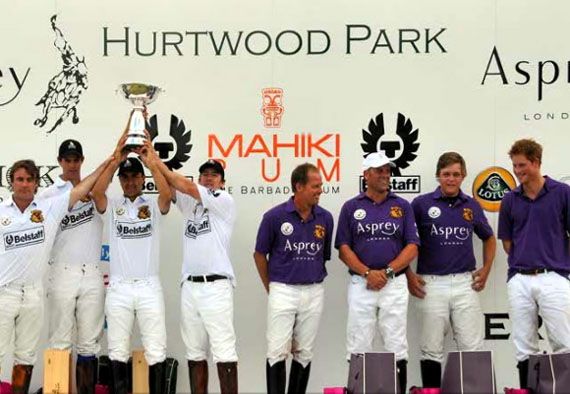 News & Trends:
England's Prince Harry is having a less-than-stellar polo season, it seems. After losing out to Nacho Figueras' Black Watch team at the Veuve Clicquot Polo Classic in
New York
last month, he was bested once again by Belstaff during the
Asprey
World Class Cup at the Hurtwood Park Polo & Country Club in Surrey, UK, on July 17. Harry captained the Asprey team but took the defeat in stride as the prestigious match was held in aid of Sentebale, MapAction and Dolen Cymru, three of the many charities patronized by the philanthropic Prince.
Belstaff, famed for its leather jackets, also unveiled their brand new polo inspired collection at the event, allowing guests an exclusive first look at the chic and sporty clothes. Some lucky VIPS such as Prince Harry were gifted with items from the new line. Also in attendance at the event were Prince Albert of Monaco, his fiancée Charlene Wittstock, the Rolling Stones' Ronnie Wood and several stunning supermodels. Belstaff, founded in the UK in 1924 and known for outfitting stars like Tom Cruise, George Clooney and Will Smith for their action-packed blockbusters, also recently outfitted
Brad Pitt and Angelina Jolie
with complete wardrobes.