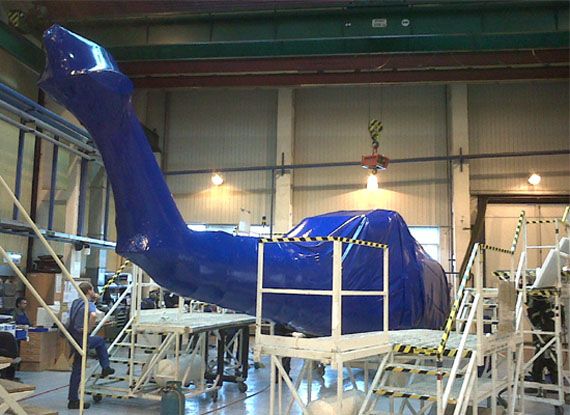 Photo Courtesy of Sikorsky Aircraft Corporation
A new standard in quietness in
commercial helicopters
is forthcoming, as Sikorsky's new S-76D moves toward FAA-certification. It is expected to happen later this year. So far, the S-76D has met performance, reliability and pilot-workload expectations with more than 225 test flights.
Sikorsky International, a subsidiary of United Technologies Corp., made the announcement Monday, March 7, at the Heli-Expo Industry show in Orlando, Florida. The company also reported that two test helicopters have completed 325 flight hours plus 179 hours of ground tests and evaluations. Familiarization flights with regulatory authorities in the U.S., Canada and Europe have been conducted to date.

Falcon Aviation Services, which is based in Abu Dhabi, is the launch customer for the S-76D, having contracted to purchase two in November 2009. Falcon also holds an option to buy two more S-76Ds. Final assembly of the first two helicopters is under way at the Sikorsky Global Helicopters facility.



Sikorsky has a third S-76D on display at the Heli-Expo Industry show this week. The third model will join the test program this summer at the company's complex in West Palm Beach, Florida. The S-76D, the next-generation Sikorsky S-76, is a multipurpose commercial helicopter that is equally capable at luxuriously transporting executives or efficiently handling emergency medical services.

The new helicopter features a dual rotor speed for quiet-mode operation and a reduced external noise signature that should make it the quietest of any helicopter with a maximum gross weight over 4,000 kilograms (8,818+ pounds). Sikorsky is basing its expectations on current test data and on margins by which other aircraft have adhered to FAA and international noise certification limits.

Visit www.sikorsky.com to learn more.