Eric Meyers View Profile

Editorial Assistant | JustLuxe
Business Travel News | Mitsubishi Regional Jets to Launch by 2012
Aug. 29th, 2011 | Comments 3 | Make a Comment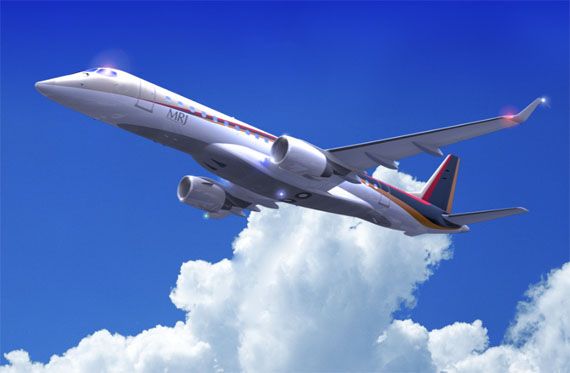 The aviation industry is currently undergoing a period of growth on both ends of the spectrum, with a handful of private companies focusing on
space flight
, and another group plying their wares on a more regional scale. The most higly-anticipated advancement set to hit the skies in the near future is the next generation of the Mitsubishi Regional Jet.


For years their 50-seat jets have been the aviating apex in regional travel, and due to the foreseeable expansion in this area, they are well on their way to placing larger and completely upgraded planes in the sky. The first aircraft to roll out will be the MRJ90, which will feature the type of technological innovation that the world has come to expect from Japanese manufacturers. The MRJ will stand out visually on the tarmac thanks to state-of-the-art aerodynamic design, yet will have a quieter presence due to its noise analysis technology that also cuts down on fuel consumption and emissions.


The interior of the MRJ90 is meant to comfort the passengers as much as the environment, with four abreast seating that is meant to mimic the overhead and underfoot clearance formerly reserved for mainline jets. Mitsubishi also reports the jets will have new slim seats that employ thinner fabric on the seat back and bottom that not only improve comfort, but increase leg room. All of this extra room does not sacrifice storage space however, as IATA-standard maximum size roller bags can still be accommodated in the overhead bins.

Overseeing the safety of these jets will be Boeing, via an announcement from the Paris Air Show in June. Boeing will provide customer support for the fleet of new MRJs through the latest technology, such as a maintenance web portal that predicts service and maintenance needs. The portal collects and analyzes data in real-time, allowing planes to spend less time on the ground without sacrificing safety.

The MRJ90, and the smaller MRJ70 are on schedule to be rolled out at the end of this year, with operations beginning early next year. Both American and Japanese airlines have already placed orders for the new aircraft, so global travelers can expect fresh new planes for their regional travel very soon.