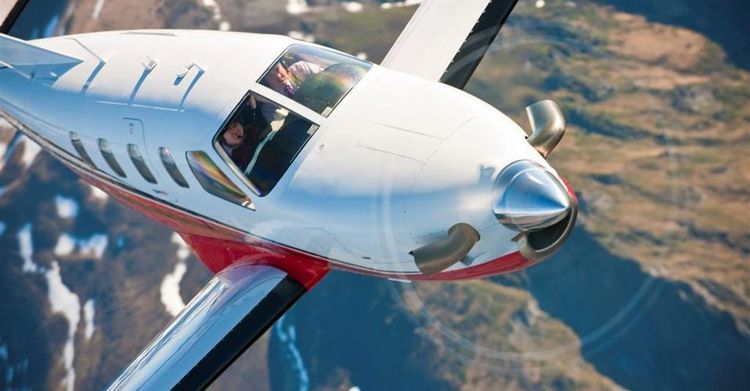 Photo Courtesy of Daher-Socata
The latest version of Daher-Socata's single-engine turboprop airplane is ready for delivery and upgrades. The aviation company announced that it received certification of its new seating and cabin configuration. The news was released at the EAA AirVenture Oskosh aircraft show in Oskosh, Wisconsin on July 24, 2012.
The middle seats of the 2012 TBM 850 Elite are removable, allowing the cabin either a two-seat or a four-seat configuration. The maneuvering, which is achievable in approximately 30 minutes, triples the luggage-volume capacity and doubles the maximum luggage weight that can be carried in the aircraft.
"AirVenture is the world's largest aviation gathering, which certainly is the best place to make our TBM 850 certification announcement, which highlights the dynamism of our Airplane Division," said Stephane Mayer, president and CEO of Daher-Socata. "This certification together with other 2012 improvements is a good illustration of the Daher group's commitment to innovation in serving its customers with the best in class, and state-of-the-art technology available."
Delivery of the initial TBM 850 Elite, equipped with the new seats, is available now, as the cabin enhancement is also being applied to all 2012 850 Elite models.
The TBM 850 Elite's certification results from months of hard work by the company's engineering and airworthiness teams, according to Nicolas Chabbert, senior VP of the Daher-Socata Airplane Division.
"This certification is the reward of many months of hard work for our engineering and airworthiness teams. It was a good preparation for our future challenges," said Mr. Chabbert. "The additional good news for the 17 customers of the TBM 850 Model Year 2012 already delivered: they will soon receive a pair of new seats to upgrade their plane to the Elite standard – a unique feature that will allow the use of cargo space as needed to our very fast turboprop aircraft's unique cost/performance ratio."
The firm also introduced the new carbon fiber edging and the Garmin GSR 56 Iridium satellite transceiver for the TBM 850 Elite. The aircraft, which launched in 2005, has delivered more than 277 units 850 as of mid-July 2012.
For more information, visit
TBM850.com
.