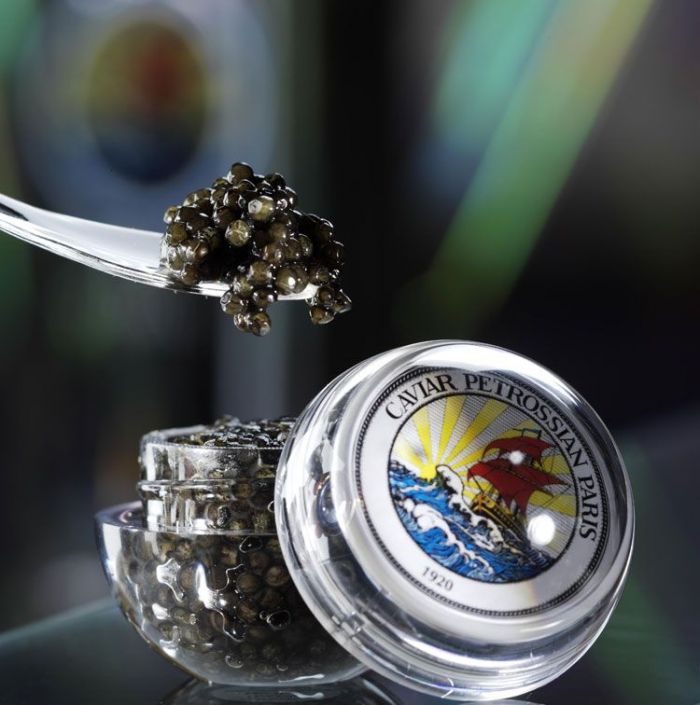 Photo Courtesy of Air France
As if the complimentary bread, wine, and cheese were not enough, passengers flying Air France's luxury La Premi?re cabin will feel even more special this holiday season as they will be receiving a sumptuous treat. First-class fliers departing from Paris December through January shall be gifted an individual-sized jar of Caviar Alverta Royal Eggxiting by Petrossian. Long associated with
luxury living
, this delicacy comes packaged in a transparent glass egg with serving spoon. The Petrossian brand has been a caviar and fine dining specialist for more than 80 years, and for this edition, they use eggs from the Alverta species — "raised sustainably from white sturgeon in California waters, [with] a nutty, buttery flavor."
These flights should be well-suited for the seafood enthusiast because in addition to the caviar, French chef Jacques Le Divellec will be showcasing two of his recipes. Known for a love of seafood, Le Divellec is a Michelin-starred chef and part of Air France's Servair Culinary Studio. For first class passengers, he will be serving two dishes — a fillet of turbot with clams and a seafood medley. The fillet features baby spinach and Venere Nero black rice with a sauce composed of langoustine jus, cream, cognac, and tomato. The seafood medley is described as "rich and buttery with fennel, potatoes, fillet of smoked salmon, black tiger shrimp, lightly seared scallops, and poached fillet of monkfish, served in shellfish broth."
Onboard, Air France outfits its La Premi?re cabin with a bar and changing cabin. Seats convert into beds with high-end accessories like merino blankets, on-demand video, a back massager, and telephone. Other amenities include pajamas, toiletries, and Biologique Recherche product sets. Along with the caviar and seafood selections, the dessert menu is designed by Lenotre, and Oilvier Poussier selects the wine from various French regions. I would try pairing the caviar with the Taittinger Comtes de Champagne 2000, available until January 2013.
On the ground, the Air France Lounge in Terminal 2 is open to first-class customers and promises a "haven of peace at the heart of Paris-CDG." Upon arrival, bags are taken by staff, and passengers are personally accompanied to the lounge, experiencing fast-track access through the airport and check-in. Designed by Didier Lefort, the lounge exhibits artwork from well-known artists and features cuisine by Alain Ducasse. This exclusive space also offers beauty and massage treatments by Biologique Recherche. Wine can be ordered from the Air France wine cellar, and work stations are equipped with wifi. When it is time to depart, a staff member will alert you and escort you in a private elevator to a car waiting to shuttle you to the plane.
When it comes to first-class travel, the difference is in the details. With personalized service, caviar gifts, and even designer tea bags, Air France seems well on its way to providing a
luxury travel
experience.