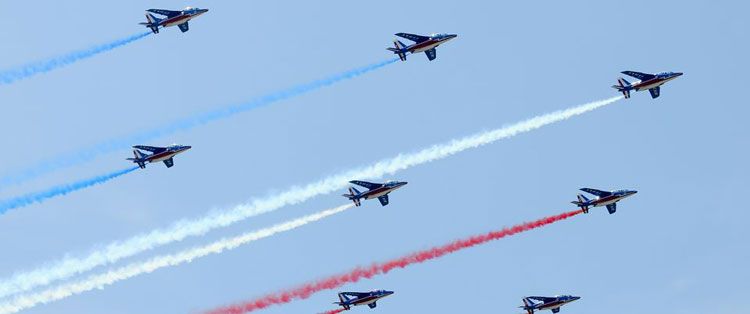 Photo Courtesy of International Paris Air Show
Aerial performances can be pretty exhilarating, hearkening spectators back to an era when flight technology was innovative and promised a bright future. Even if you donít own a personal plane, just being present to watch the spectacular
aircraft
can make you feel as if you were ruler of the skies. These powerful planes come and go in the blink of an eye, so donít miss them with this
schedule of 2013 air shows
.
The notorious
Blue Angels
of the U.S. Navy will be flying 65 shows in 32 locations around the country this year. The 2013 schedule takes off March 16 in El Centro, California and then goes cross-country to Florida. Jetting back and forth across the states, the show wraps up in November with a two-day appearance in Pensacola. Fabulous to watch, the demonstrations allow the Armed Forces to show off their superior flying abilities.
Comprised of 16 volunteering officers, the team includes a Boeing F/A-18 Hornet ó flying at a speed of Mach 1.7+ ó and the Lockheed Martin C-130 Hercules. The Blue Angels made the 4-plane diamond formation popular, which requires precision handling, and their solo performances are also breathtaking.
Photo Courtesy of Blue Angels
As the world's oldest and largest aviation event, the
International Paris Air Show
honors aviation technology from around the world. Last year, over 2,000 exhibitors from 45 countries were present, and 1,400 aircraft were sold. During the event, nearly 150 aircraft will be on display and performing flying events in the afternoon. Everything from cabin interiors to spacecraft telecommunications will be represented.
Conceived in 1909, 2013 marks the showís 50th edition which will be held at Le Bourget Exhibition Centre from June 17-23. In support of the event, Airfrance and KLM will be offering discounts on fares with a code provided on the show's site.
Photo Courtesy of International Paris Air Show
In the lovely warm South Florida region, the
Fort Lauderdale Air Show
will be displaying the nationís premier military and civilian acts with waterfront aerial feats. Headlining the show are the U.S. Air Force Thunderbirds. Although tickets are available, spectators are able to enjoy free viewing from the beach. Held April 20-21, the event offers three ticketing options. For the VIP treatment, which includes reserved seating on a tiered, raised platform for unobstructed viewing, spectators can choose Colonel Club tickets. And located on the sand at the aerial 50 yard line, the Drop Zone option offers goers a beach experience, and is ideal for watching the jumpers. The Clubhouse Chalet offers views from box seating or a reserved beach area just south of the landing zone.
Extreme sports sponsors Red Bull created an exciting race event, the
Red Bull Air Race
, in which individual fliers navigate quickly through an obstacle course for the best time. Although the tight turns are thrilling, it is cancelled this year and likely to resume in 2014.
Photo Courtesy of Fort Lauderdale Air Show