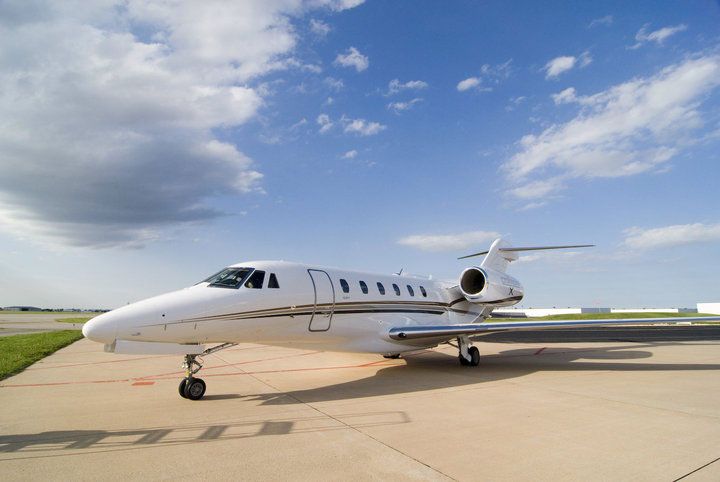 Photos Courtesy of XOJET
One way for a company to enlarge their assets is to join forces with another — simple addition, right? For
private jet
charters, clients who entrust their services to
XOJET
should be pleased with the news that they are forming a new alliance with Travel Management Company (TMC). This collaboration will double the XOJET fleet of light and mid-size jets, giving those booking charters even more options to satisfy their travel needs.
XOJET operates a fleet of super-mid-size jets providing its customers with on-demand charter service. With the alliance, the company and its clients now have access to TMC's fleet of 24 Hawker 400XP light jets and 30 Hawker 800XP mid-size jets — the largest privately owned fleet of those types of Hawker jets. These additions will let XOJET expand their already large operational services.
Brad Stewart, CEO of XOJET remarks, "We are proud to team with Travel Management Company. Scott Wise [General Manager] and his colleagues at TMC have built one of the most-respected operations in the industry. Moreover, TMC and XOJET are the perfect complements. Our fleets, operational capabilities, and business approach align perfectly."
In turn, XOJET will be relinquishing its fleet of seven Hawker 800XP aircraft to TMC, and will continue to focus on expanding its super-mid-size fleet of Citation X and Challenger 300 aircraft. To this effort, it will add an additional four super-mid-size aircraft over the next several months.
For their services, XOJET focuses on fixed-price charters, and as of now, offer flights between 22,000 airport pairs as well as custom charter flights. That is quite the destination menu for those bypassing commercial flights for a private flight. With the collaboration, clients will be provided quotes for all three sizes of planes, and the extended fleet will also be included in the XOJET Preferred Access program.
"XOJET Preferred Access is the most flexible program available to sophisticated private fliers," added XOJET's Stewart. "Giving Preferred Access fliers access to three fleet types in the same program—with no interchanges fees and the ability to use the plane they need, when they need it—makes XOJET Preferred Access the easiest, most comprehensive program in the industry."
Founded in 2006, XOJET is one of the largest and fastest growing private aviation companies, serving 5,000 customers worldwide. Their business model combines flexible private jet programs and fixed-price charter. A focus on safety has earned them the highest ratings in the industry as they have rank either #1 or #2 in all 12 ARG/US platinum safety rating categories. TMC is a privately owned full-service air charter company and operates a fleet of 55 aircraft throughout North America. They also operate the industry's largest privately owned fleet of Hawker 400XP and Wi-Fi enabled Hawker 800/850Xp aircraft.