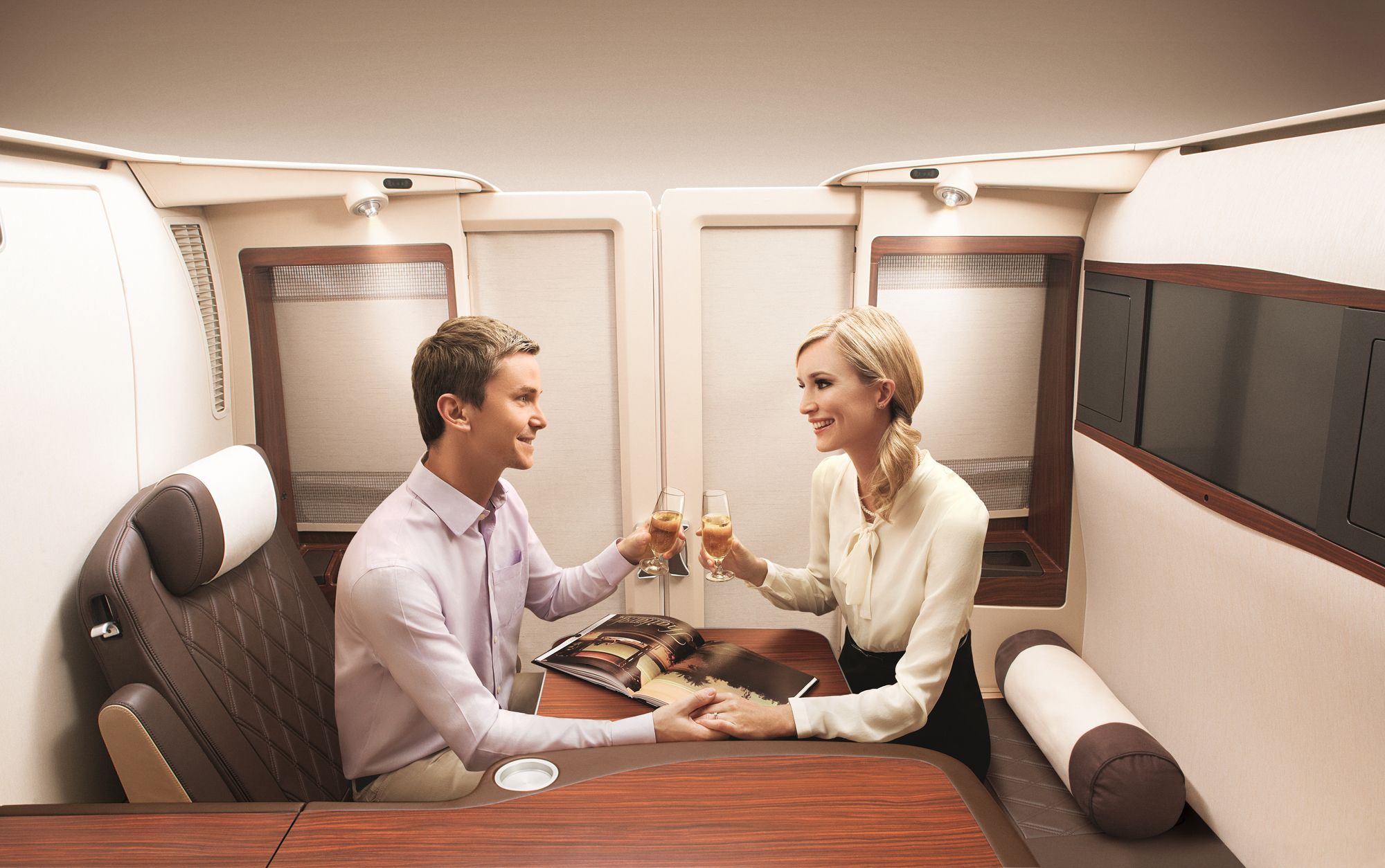 Photo Credit: Singapore Airlines
When it comes to flying in luxury, there are tons of different options out there, from tricked-out private jets to commercial planes outfitted with apartment-like cabins. Thanks to improving technology, a passion for flight and the desire for indulgence, it looks like 2016 will be full of various combinations of luxury, comfort and intrigue available to please just about everyone. Here are our top 10 favorite aircraft options for the year ahead:
Photo Credit: Gulfstream
The Gulfstream G650ER
The newest aircraft from this industry leader is termed its flagship. The Gulfstream G650ER offers the highest nonstop range of up to 7,500 nautical miles and a maximum flying speed of Mach 0.92 (which is around 705 miles per hour). There is literally no other aircraft serving business needs in the world that can match these numbers.
The G650ER can be fitted for up to 19 passengers, can sleep 10, has a maximum take-off weight of 103,600 pounds and a max cruising altitude of 51,000 feet. Able to fly above the usual commercial routes and weather patterns, this aircraft ensures the safest and smoothest ride. It also offers the fastest and longest routes of any business aircraft and gives the choice of 12 different floorplans (plus the option to customize individual spaces). The seats and divans are handcrafted and key standard features include high definition video and digital audio equipment, 26-inch widescreen televisions, a convection oven and fitted storage, and dinnerware for entertaining.
Photo Credit: Virgin Galactic
The Virgin Galactic Space Plane
A "seat to space" on a Virgin Galactic Space Plane requires company-supplied training and a $250,000 deposit. The aircraft that will travel past our Earth's atmosphere into the near edges of space and zero gravity is called the SpaceShipTwo. It will launch from the space port in New Mexico and currently, there are over 700 applicants waiting for their turn. The cabin they fly in is described as being spacious, with a focus on maximizing the views of Earth and outer space for all passengers. The space plane is 90 percent structurally complete (with two-thirds already assembled) and if interested, you should definitely apply.
Photo Credit: Etihad Airways
The Residence by Etihad Airways; Airbus A380
Though initially introduced in 2014, The Residence by Etihad Airways has continued to capture the imaginations and pocketbooks of luxury travelers worldwide. For this reason, the elegant Airbus A380 was added to the airline's Abu Dhabi to New York route for the first time on December 1, 2015. Passengers planning to travel this year should book early for the chance to fly in the first ever, three-room cabin. Located in the forward upper deck of the aircraft, the 125-square-foot space includes a living room with a 32-inch LCD TV, a double bedroom suitable for one or two passengers with an additional 24-inch screen, a separate en suite shower room, a personal Savoy Academy-trained butler and a chef.
Photo Credit: Finnair
The Finnair Airbus A350 XWB
Finnair is the proud owner of the first Airbus A350 XWB airplane in Europe and luxury travelers will find much to appreciate in the design of this aircraft. One of the first things people will notice is the LED lighting illuminating the ceiling of the cabin, which sports an array of 16.8 million colors that sync with the aircraft location, time, and destination. Other distinct offerings include the filtering system that provides clean cabin air every two to three minutes, cabin pressure mimicking sea level and individually-controlled temperature zones. There is also complimentary Wi-Fi, a dedicated ladies powder room with make-up and supplies provided, and an onboard menu that uses locally-sourced ingredients in its Nordic-style dishes. Lastly, technology fans will appreciate that the aircraft wings are controlled by computer and can adapt while airborne to produce the most aerodynamic flight possible.
Photo Credit: Four Seasons Boeing 757
The Four Seasons Boeing 757
In April 2015, Four Seasons announced that its luxurious Boeing 757 will provide superlative accommodations in the skies, with global trips beginning in 2016. This is a flying hotel disguised as an airplane and as such, it offers the amenities one would expect from a top-drawer establishment. There will be a cabin crew including a concierge, a guest services manager, an executive chef and a sous chef. The plane has handwoven carpets and leather seats for 52 passengers, who will travel together on month-long itineraries while staying at Four Seasons hotels for several nights in prime destinations along the way. Comfort comes first on this plane, with seats made of Italian leather that offer 78 inches of legroom. Each passenger gets a cashmere blanket, an ottoman, an iPad and a set of Bose headphones, and an amenity kit by Bulgari. Plus, Dom Pérignon Champagne is kept onboard if you want some bubbly.
The prices start at $106,000 per person for the everything-included Four Seasons Private Jet Experiences, which are scheduled for the months of January, April, September and November. The first is reported to be a 24-day, nine destination journey which will begin in Los Angeles and end in London. Stops along the way will include Hawaii, Bali, Thailand and much more, with a price of $132,000 per person.
Photo Credit: JetPurple
JetPurple Airwayz
Charter company JetPurple Airwayz is one to keep an eye on, because it has been popping up all over the media due to marked conflicts between what they advertise as opposed to what may be true. The company says they offer purple reclining chairs that are spacious enough for sleeping once reclined and are planning to carry the vibrant color throughout its plane interiors—including the carpeting, blankets, pillows and logo. The planes are expected to fly first and business class passengers only, with routes from San Diego to the Scottsdale/Phoenix area. The airline will use only charter airplanes and private terminals, meaning that passengers must be screened for the Transportation Security Administration's (TSA) No-Fly List. Other JetPurple amenities planned are complimentary meals, drinks, snacks and in-flight entertainment. The airline plans to use Boeing 737-BBJ and Airbus ATR-42 Turbos, and has long term goals of offering flights to Singapore, China and South Korea from Burbank, California.
JetPurple announced that it will begin operation in 2016, but the actual start date for service is unclear. In fact, some reporters have discovered that despite the announcements made by the luxury airline, airport officials at Scottsdale Airport have yet to be in contact with the company at all and that the only thing they know about the airline is what has been released in the media. Therefore, the privately-financed airline may—or may not—be operating in luxury sometime in 2016.
Photo Credit: Cobalt
The Cobalt Co50 Valkyrie
Anyone in the market for a luxury private jet should take a look at the new Cobalt Co50 Valkyrie. Though the jets will not be available until 2017, the company is taking pre-orders now with a $15,000 deposit on the $699,000 aircraft. Including the pilot, the Co50 can transport five people and reach a maximum speed of 299 mph, making it the fastest in its category. This world-class aircraft is fully certified, using the best of modern technology and design features. Its 350 horsepower propulsion engine is located in the rear, which helps to keep the cabin area quiet, and it was designed with a forewing to prevent stalls. Both the interior and exterior can be customized in terms of finishes, while former Hermès artisans have hand-stitched the leather seats for an extra dash of opulence. Designed for storing ample amounts of luggage, skis or golf clubs, the jet is perfect for travel and aviation enthusiasts.
Photo Credit: British Airways
The British Airways A380
Known for its superb Rolls-Royce engines, British Airways has its own version of the A380 aircraft. As the largest commercial passenger plane in the world, it has taken its place in the fleet of many airlines, but the British have always had an impeccable eye for cabin comfort and flexibility. First class offers 14 demi-cabins which allow passengers to sleep, work, watch videos and dine at their own pace. The airplane is a wide body, double-deck jet with four engines manufactured by the European consortium Airbus Industries. It is constructed of strong, yet light, carbon fiber-reinforced plastic and claims to have the lowest emissions per passenger of all large airplanes. Its take-offs are 50 percent quieter than its peers and it even boasts more floor and head space. For those who want to travel in one of the newest airplanes with the most amenities offered at a great price, this is an excellent choice.
Photo Credit: Smithsonian Journeys
Smithsonian Journeys; Boeing 757
Not just your average "see the world by private jet" tour, Smithsonian Journeys offers intellectual explorations of the world's most famous historical sites from the comfort of a Boeing 757. Costing about $79,000 per person, Smithsonian's tours include many iconic and exotic destinations, cultural activities and dedicated guides for up to 80 passengers. As of July 2015, 738 of the narrow-bodied Boeing 757 were still in service. Its ability to take off from shorter runways (while providing a smooth, higher altitude) have made it a popular choice for many commercial airlines.
Photo CreditSingapore Airlines
Singapore Airlines Airbus A380 Suites Class
Singapore Airlines was the first carrier as of 2006 to fly the new Airbus A380. Normally, this plane can carry up to 555 passengers, but the Suites Class has provided a new level of luxury that other airlines were fairly swift to imitate. The average cost for flying in the Suites is about $18,000 and what sets them apart from how other airlines use the A380 are their individually compartmentalized areas with sliding doors for privacy. The cabins are divided into a living area, bedroom and dining room with double beds, soft armchairs, Dom Pérignon and a wide variety of food options. Passengers get a dedicated butler to see to every need, Bose headphones, Salvatore Ferragamo amenity kits, Givenchy pillows, pajamas, slippers and blankets, drinks on request and a five-course dinner. The luxury actually begins before the plane even departs, as passengers get to relax in the Private Room waiting area dedicated to the Suites passengers, where gourmet food and drinks are in abundance.
Thanks to Worthly for this great list!