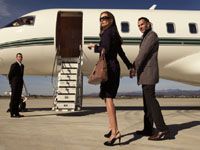 Luxury Aircraft:
The Sentient Flight Group, a U.S. leader in private aviation, has recently introduced a new benefit for its Sentient Jet Membership Plus Program. Since 1999,
Sentient
has been offering its members a flexible solution to private travel, and unlike most jet cards, members can select a specific jet type, as well as enjoy the added convenience of booking a flight with as little as 10 hours notice.
Recent updates to the Sentient Jet Membership Program include guaranteed access to three of the industry's most popular aircraft: the Hawker 400XP, the Citation Excel, and the Citation X. In addition to booking the jet of your choice, the membership also includes a new fixed hourly rate, which on average is 15 percent below the leading fractional card programs for one-way travel.


"Over the years we have seen that many private jet travelers purchase multiple products to meet their different flying needs. With the introduction of jet-specific booking, our Membership Plus Program is clearly a superior alternative to buying multiple products," said Steven Hankin, chief executive officer of Sentient Flight Group.

"This is a natural extension of our practical approach to private jet travel and provides Members an entirely new level of value and choice. Whether you want to fly on one specific jet, prefer the option of booking by category, or want to fly a combination of the two depending on your travel needs, Membership Plus offers incredible flexibility along with our renowned commitment to safety and service."

Members can also take advantage of substantial savings with Sentient's new Network Pricing feature. With a network of published hourly rates, members will know the maximum amount they will have to pay and often times be offered lower rates by optimizing itineraries within the network.


With year-round access, no monthly management fees, and payments made only for the hours spent in the sky, the Sentient Jet Membership Plus Program is the ideal choice for leisure and business travelers alike. The program is available for $150,000 and comes with an around-the-clock client management service, as well as the expert guidance of an independent safety advisory board.

For more information, visit www.SentientJet.com.

For JustLuxe Christina Stewart