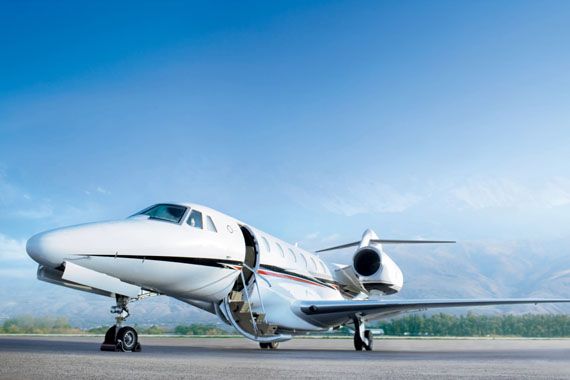 Luxury Aircraft:
When entering the world of private flying it's important to fully appreciate all of your options and to know precisely which one will benefit you the most. Making a choice between the various forms of private flying can be difficult, and sometimes it helps to think about your options as you would when ordering at a restaurant.
Whether choosing how to fly privately or how to dine out, understanding the available selections and factoring in your specific budget and taste are paramount.
For your consideration, here are the main forms of private flight:
1) Ad hoc charter
Ad hoc charter is one of the most flexible methods of flying privately. Essentially it's air charter "on demand"- you choose your desired aircraft, flight route, and desired date. Once a booking is scheduled, prices and availability are guaranteed and all is taken care of in a single payment. Ad hoc charter is like buying a la carte. Imagine the waiter is your broker and the menu lists your charter options- you order what you like and they take care of the rest. All you need to do is pay the bill.

When one embarks on an extravagant dining experience, making sure the desired restaurant is up to par goes without saying. The same standards apply when finding a reliable broker for your ad hoc charter adventure. Like restaurants, one must be aware that there are a number of brokers and aircraft operators in the aviation sector and it's important use a reliable, highly regarded broker. For the best ad hoc experience, it is essential to make sure your chosen broker has a proven track record of success and safety, as well as widespread global experience.


Ad hoc charter is the ideal option for those who wish to avoid commitment beyond the short term, or for those who have ever-changing travel needs. As when ordering a la carte, you'll be paying full price but you'll be getting precisely what you want.

2) Jetcard Membership Programs
Jetcards are a recent addition to private jet options and have become extremely popular, especially for those who make several short trips a year. With Jetcards, clients prepay for a set number of flight hours (typically between 25 and 50) in their chosen category of aircraft, which can range from light and midsize cabin jets (6-7 people) to large cabin and global cabin jets (10-14 people). Jetcards come with discounted guaranteed hours, similar to having a generous gift card to a restaurant you frequent. You already know you're going to get a good meal and it's already paid for- just let them know when you'd like to make your reservation.

While availability and access to aircraft are guaranteed, an important factor to keep in mind when choosing a jetcard provider (as when entering any contract) is to read the small print very carefully for hidden extras and conditions. When purchasing a jetcard key aspects to look for are:

Clear transparent pricing
No peak-time additional charges or restrictions
No fuel surcharges
Discounts for return trips and the option to cancel with a full refund on unused hours.

Jetcards offer a simple solution for those who wish to negotiate the cost of their private jet flying annually and strike a deal with one single supplier that offers a consistent level of service and support. Similar to purchasing a gift certificate for a restaurant you like, trust and frequent often, but even better due to the guaranteed reservation and discounted price compared to an a la carte order.


3) Fractional ownership
Fractional ownership is another popular option, yet its appeal has slightly diminished with the arrival of jetcards, mainly because it requires far more commitment. With fractional ownership customers buy an up-front ownership share in an aircraft at its market value plus the cost of additional monthly management fees. Shares tend to start at 1/16th of the aircraft (for about 50 hours a year) and are purchased for a fixed term (usually five years) before being sold back at market value. Fractional ownership would be like buying a fraction of a restaurant. It's as if you were to own 1/7th of a restaurant and have access to it one pre-determined day a week. Not to mention you are also responsible for the excess fees and maintenance that come with that ownership.

When selecting an aircraft keep in mind your desired passenger capacity and aircraft range. The larger the capacity and the longer the range, the higher the capital fee and ongoing charges will be. Share costs are linear and can range from a few hundred thousand to several million dollars. One wouldn't want to buy into a restaurant that didn't serve one's desired cuisine or have a preferred beer on tap. Since the investment is so large, it's essential to make sure the aircraft you invest in is the one you want to spend your time in.

If going the fractional ownership route it's important to keep in mind the aircraft's true exposure to depreciation of the capital cost and a long-term contract without exit options. Talk to satisfied clients and do your research before taking this option, because once you're in- you're in!

4) Outright Ownership
Outright aircraft ownership is exactly that- full and complete ownership of an aircraft. Essentially with this option, you've bought the restaurant. It's an ideal choice for high-net-worth individuals, corporations and senior executives who often purchase their own jet to achieve total flexibility. Costs can range from $2.5 million for a light cabin jet to $50 million for a long-range jet, and this is before factoring in the annual cost of employing crew, maintenance and the actual operating costs incurred in flight.

When purchasing your own aircraft, finding a management company with a proven track record can significantly reduce operating costs by contracting out spare hours. One would never buy a restaurant and then put it in the hands of sub par management- like all investments it's essential to make sure whoever is in control is using the utmost care and caution.

When deciding where you'll dine this evening, inevitably a series of questions are presented: What am I in the mood for? How much can I spend? How much time do I have? Though initially complicated, selecting from your private flying options is just as simple. Assess your needs, know what's available, and choose the plan which best suits your travel lifestyle. Making the right selection makes all the difference and will undoubtedly leave you coming back for more. journey.

Phil Matthews
Air Partner