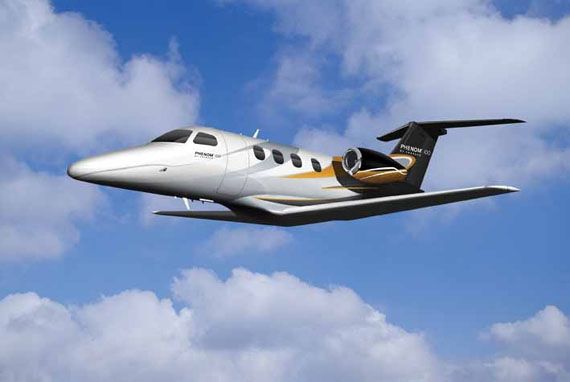 Luxury Aircraft:
An overnight sensation, the
Phenom 100 charter jet
has become one of the most popular private jets to enter the air charter market in a decade. The brand-new, four-passenger Very Light Jet (VLJ) aircraft is one of the latest additions to the Embraer line of business aircraft. Recently,
Phenom 100s
have become one of the most popular private jets due to their comfortable cabin design and enormous cargo capacity. These private jets have also gained notoriety for their ability to accomplish the same missions as most light jet aircraft at a more economical price.
The Phenom 100 charter jet has become a successful charter aircraft because of its excellent performance capabilities and sleek, passenger-friendly design. Performance-wise, the Phenom 100 has an impressive climb rate of 4,760 feet per minute and can climb to an altitude of 41,000 feet. At this altitude, passengers can fly over any inclement weather or turbulence which provides for a much smoother, safer flight. Another advantage of the Phenom 100 is the aircraft's impressive storage capacity. Unlike other jets in its class, the Phenom 100 boasts 71 cubic feet of storage capacity that can easily accommodate a combination of bags, skis and golf clubs. It goes without saying that the Phenom 100 is an attractive aircraft option for passengers traveling with a lot of luggage.
As a very light jet, the Phenom 100 is an impressive aircraft with its enhanced performance capabilities and luxurious amenities.  However, we feel it is our responsibility as air charter experts to report the limitations of every new charter aircraft, including the Phenom 100.  Although the Phenom 100 has excellent VLJ performance capabilities, the aircraft only has a range of 1,178 nautical miles.  This means that the Phenom 100 can only accommodate short-range routings without a fuel stop, such as one-way charter flights from
Los Angeles
to Las Vegas. These aircraft are not the most efficient aircraft for long-distance or transcontinental charter flights.
Another disadvantage of the Phenom 100 is its recent introduction into the air charter market. Since the aircraft is new to the industry, very few pilots have had the opportunity to build the necessary flight time to meet stringent flight experience requirements. This limits the number of flight crew members capable of meeting the standards for a Phenom 100 charter flight. Fortunately, every day more and more pilots are gaining experience in the Phenom 100 as more of these jets enter the air charter industry.